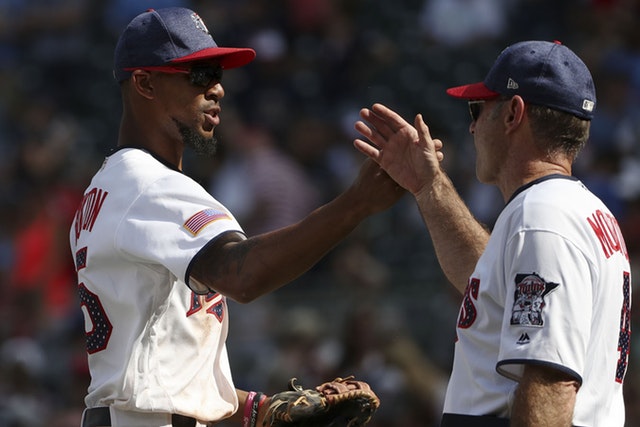 The Twins will be without one of the best defensive center fielder in baseball for at least the next week.
Minnesota announced Wednesday, former No. 2 overall pick Byron Buxton has been placed on the 10-day disabled list due to migraine headaches.
Outfielder Ryan LaMarre, who was already with the team as a special 26th man for the Puerto Rico Series, was moved to the 25-man roster. The Twins will have one less player for Wednesday's game.
Buxton's move is retroactive to April 15, the furthest they can backdate such a move to.
The Twins were ready to put Buxton in the lineup on Tuesday when he arrived at Hiram Bithorn stadium showing symptoms and was sent back to the team hotel.
"You could tell he wasn't right when he came in," Molitor said. "He got checked out and we sent him back to the hotel."
Twins catcher Jason Castro, who has had migraine issues of his own, knows what Byron Buxton is going through.
Get all the latest Betting and Sport News updates on your social media outlets
"I have then very infrequently, but I can sympathize with what he is going through," Castro said. "The thing is there is nothing you can do, just isolate yourself and hope that it goes away."
Just like on Tuesday, Max Kepler started in center while Robbie Grossman started in right field and batted eighth. LaMarre can play all three outfield spots, making the move a no-brainer.
Max Kepler will take over center field duties for the Twins until Buxton's return. Though he's no Buxton, Kepler was fine enough in center field. The more troubling news is that moving Kepler to center fielder means Robbie Grossman will likely take over most of the duties in right field — and, no offense to Grossman, but his last name is a pretty good descriptor of his defensive capabilities out there. It's a huge step down from having the best defensive player in baseball in center field and basically two other center fielders on either side of him.
Check WagerWeb and find the best online betting site.