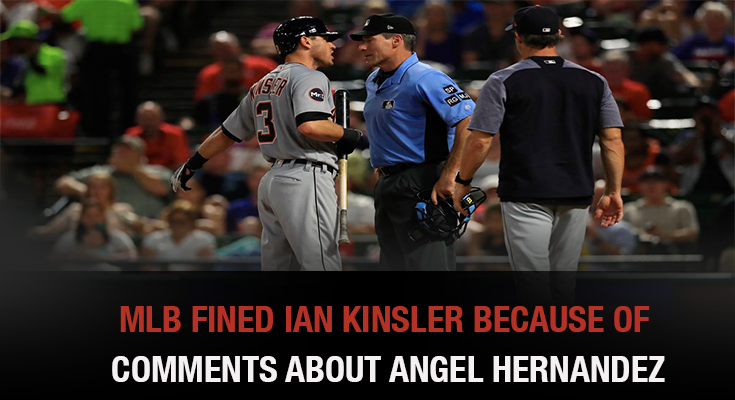 On Tuesday, the Major League Baseball decided to fined for $10,000 Ian Kinsler because of his comments about Angel Hernandez. The news were reported by an ESPN corresponsal, in which it says the manager from the Tigers Brad Ausmus was very surprised by the amount of money they were asking for. He also explained that for him is one of the biggest fine they have been given by the Major League Baseball and how impact he is about the situation. The MLB is clearly punishing the player, even though they say they aren't. Some MLB umpires used last Saturday white wristband as a form of protest against the verbal attacks.
Get all the latest Betting and Sport News updates on your social media outlets. Find us on both Facebook and Google+
 The player attacked Hernandez saying he should work in another thing. He wrote on twitter he wasn't giving to much mind to the issue, even though he stands for what he said about him. He attacked the MLB with strong arguments about their wristbands too. The protest finished Sunday when Rob Manfred decided to meet with the other ones and heard about their concerns. This has been causing a lot of problems between the league, the teams and the fans, as everyone has an opinion. Today, some members of the WUA decided to meet with the commissioners (by his proposal). They meet with the board and talked about the white wristband protest and why they did it.
From Online Sportsbook, Casino Betting, Sports Odds to Racebook Gambling, WagerWeb offers you the online gambling options.
 They want the commission to understand and engage against the verbal attacks and how they should be addressed. They said they will make an act of good faith by removing the protest of the white wristbands as they accepted to meet with them. This problem is an issue it need to be done as soon as possible. Problems between MLB player and umpires has been rising as the season goes. The problems had been obvious when it comes to balls and strikes.
Check WagerWeb and find the best online betting site.