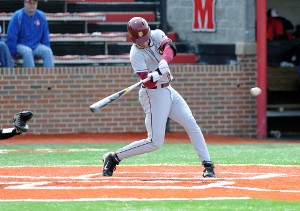 The hit and run is one of the most basic offensive plays in the game.  With a runner on first base, the strategy calls for the runner to break towards second base with the pitch and for the batter to swing at the pitch, no matter where it is, in order to put the ball in play.The hit and run is often used in situations when the offense is trying to generate a spark of momentum. With the hit and run, it's especially important to have a smart runner on the bases and a batter who can handle the bat.
The strategy has a number of objectives:
The runner's break for second base, as on a stolen base attempt, means that one of the infielders has to cover the bag. This opens a hole on either the right or left side of the infield, increasing the gap for a ground ball to break through to the outfield.
If the batter hits a ground ball at a fielder, the chance of turning a double play is much reduced because the runner will already be part way to second base when the ball is hit.
If the ball is hit safely, the runner will likely advance an extra base because he is already running.
From Online Sportsbook, Casino Betting, Racebook Gambling, WagerWeb offers you the online gambling options
Here are a few situations where it might make sense to hit and run:
To stay out of a double play: If there's a good contact hitter at the plate, the hit and run is a good way to avoid a ground ball double play.
To get a jump on the base paths: You want to start the runner early, but you don't trust him to steal a base. The hit and run is a good way to "protect" a runner who doesn't have exceptional speed, since there likely won't be a play at second base.
To advance the runner: Instead of squaring around and bunting to move the runner up, you send the runner early and try to hit the ball on the ground.
The hit-and-run is a very old strategy, dating back at least to the 1890's. A variant of the hit-and-run is the "run-and-hit" in which the runner breaks as if for a stolen base and the batter has the option to swing or not, depending on the runner's jump and the quality of the pitch (any time there are 3 balls, the play is correctly referred to as a "run-and-hit" as the batter can take without need to protect the runner). The "run-and-hit requires a good base-stealer and a disciplined hitter to execute properly and is not really any more advantageous than a straight stolen base attempt.
Get all the latest Betting and Sport News updates on your social media outlets. Find us on both Facebook and Google+!