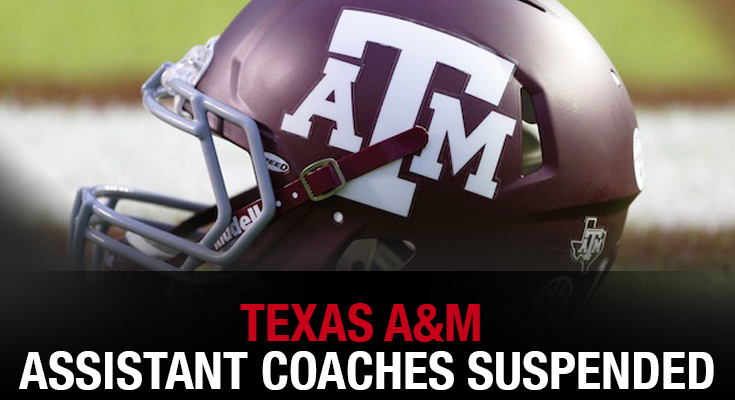 Texas A&M offensive line coach Jim Turner and special-teams coordinator/tight ends coach Jeff Banks were suspended for two weeks without pay for their role in a presentation slideshow at a fundraiser that didn't go exactly as planned. The photos of the slideshow were shown to about 700 attendees and didn't take long before photos of the slideshows were shared in social media.
"Chalk Talk" is an event that was designed to educate female fans on football, similar programs around the country are hosted annually. Several of the attended took offensive for the "degrading comments " that were displayed on a projector screen inside Kyle Field's Hall of Champions, which included a parodied version of the Aggie War Hymn:
"We are Aggie women, we are filled with estrogen. Hullabaloo, canek, canek and back again.
"Maroon & white are the colors we love, we are putting down our dish towels and taking off our gloves.
"No more Lysol or Cascade, we want to score touchdowns and walk in this parade.
"We are Aggie women & this is our song, come on … bring it on … no more thong. Hullabaloo, canek, canek … and so on …"
The Team released statements from head coach Kevin Sumlin, as well as from assistant coaches Jim Turner and Jeff Banks. In his statement Sumlin said:
"There is absolutely no place in our program or in our university community for inappropriate conduct or degrading comments towards women, or anyone, regardless of intent. "While I was in attendance at the Chalk Talk event this week, I was engaged in meeting participants, taking photographs and signing autographs, and I was unaware of the contents of Jim and Jeff's presentations until this morning.
Regarding his assistant coaches he said that both Turner and Banks will be suspended without pay for two weeks effective immediately, and that they'll be required to do 20 hours of community service. "I have addressed the issue with both of them and have their commitment to be better representatives of our program".
"On behalf of Aggie football, I want to apologize for the comments at Chalk Talk and also for my failure to review their individual presentations. I want to thank the almost 700 women who came out this week who not only participated in the program but who supported a worthy cause in Twin City Mission."
Turner and Banks also issued a joint statement through the athletic department apologizing for the slides.
"We want to sincerely apologize to the passionate Aggie fans and to women everywhere for our failed attempt at humor during this week's Aggie Football Chalk Talk and fundraiser. We clearly understand now that our comments and slides were not appropriate or consistent with the values of our football program or our Department. We must do better, and we will."
Texas A&M begins preseason training camp Aug. 8, meaning the suspension will spill over into the first week of practice.
Follow the ins and outs as preseason training camp evolves and start preparing your predictions for NFL betting season, Sign up now at: http://wagerweb.ag/