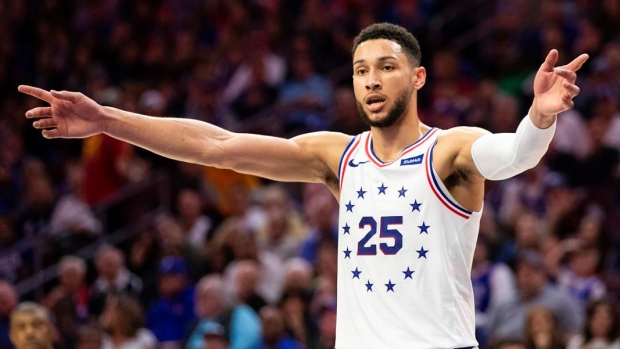 Philadelphia 76ers coach Brett Brown said Ben Simmons' back is "effectively 100 percent" as they prepare to head to Florida for the NBA restart at Disney World.
"He's good to go. He's put in a tremendous volume of work for me to be able to confidently say that," Brown said on a conference call with reporters Wednesday afternoon.
"As you search for silver linings with this pandemic and the way things have shaped up, it would be hard-pressed for me to find something more obvious than this: It's enabled Ben to reclaim his health. He's good to go, and we look forward to watching him with what I'm told is effectively 100 percent health."
Simmons hasn't played in an NBA match since Feb. 22, when he suffered a back injury early in the first quarter versus the Milwaukee Bucks. However, after months of speculation, it appears the Sixers can expect to have Simmons available when they resume their season on Aug. 1 versus the Indiana Pacers.
In addition to the positive report about Simmons' health, Brown said none of the Sixers have tested positive for the coronavirus and none have opted out of going with the team to Orlando for the restart.
Get all the latest Betting and Sport News updates on your social media outlets.
He said he's also very pleased with the shape that Joel Embiid is in.
"Let's start with the respect and applause I give him for putting in time. There is nobody on our team that has put in more time than Joel Embiid," Brown said. "Forget what he has actually done in the gym for a minute, just go to the man hours and consecutive days and the amount of days he has put in over the past few months. I'm proud of him, I respect him. He needed to do it. We understand the impact he can have on our team."
After he unintentionally collided with Markelle Fultz and suffered a facial fracture two years ago and then dealt with illness and flu-like symptoms throughout a second-round loss to the eventual champion Toronto Raptors last year, the Sixers are hoping Embiid will be fully healthy and ready to go for the playoffs.
Brown said the team has a plan in place to ramp up Embiid's activity. "We've got a three-week runway to deliver him to the regular season," Brown said. "I'm looking for Joel to come in in as good of shape as he's been in since I have coached him. I think the three weeks we have together is an inverted sort of luxury we haven't had. I'm excited for Jo to get back into this and show what he has been doing the last few months."
Check WagerWeb and find the best online betting site.