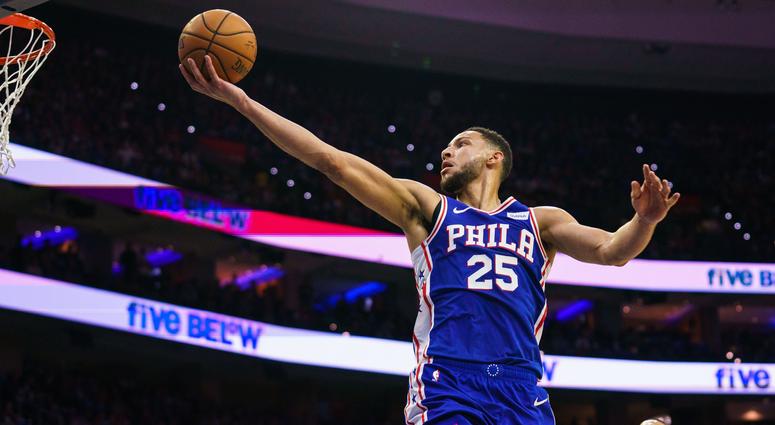 Joel Embiid was popped in the mouth by an elbow that drew blood, rattled teeth, and stunned the Sixers' big man.
Embiid shook off the knock after a short stint on the bench, then Philadelphia took off and secured the first round in a bruising matchup between two teams expected to fight for the top spot in the Eastern Conference.
Embiid had 15 points and 13 rebounds, Ben Simmons scored 24 points and the 76ers beat the Boston Celtics 107-93 on Wednesday night.
The season opener had a May feel from the opening tip.
Boston and Philly roughed up each other, combining for more than 60 fouls. They each showed off their prized free agent assets.
But it was the Sixers who turned in a leading fourth quarter.
"It felt like a playoff atmosphere, already," Philadelphia guard Josh Richardson said. "It was ready to pop from the jump."
Philly's superstars can only do so much, and the other Sixers were clutch in the fourth when they needed them. Furkan Korkmaz and Tobias Harris buried consecutive 3-pointers – after the Sixers had missed 21 of 24 through three quarters – to stretch the lead to 10.
Get all the latest Betting and Sport News updates on your social media outlets.
Even without that scrutinized jumper in play, Simmons was smooth and sensational as he attacked the hoop for easy baskets. He used a nifty spin move in the paint to hit Kyle O'Quinn for a basket that made it 90-74. The packed house went wild as the backups, a weak spot in the postseason, put the Sixers on the decisive run. Simmons also had nine assists and eight rebounds, though he played his 161st career game without a 3.
"I'm skilled, I'm gifted, I'm pretty good at what I do," Simmons said.
Gordon Hayward guided the Celtics with 25 points. Jayson Tatum had 21.
Kemba Walker scored 12 points on 4-of-18 shooting in his Boston debut, and Al Horford had 16 points in his first game with the 76ers. Horford spent the last three seasons with the Celtics and was one of the few defenders that gave Embiid fits. Horford signed a four-year deal to come to Philly and quickly became a popular teammate. Walker was signed to a four-year, $141 million deal, the most Boston could offer, but $80 million less than the Charlotte Hornets could have paid him over five seasons.
Check WagerWeb and find the best online betting site.