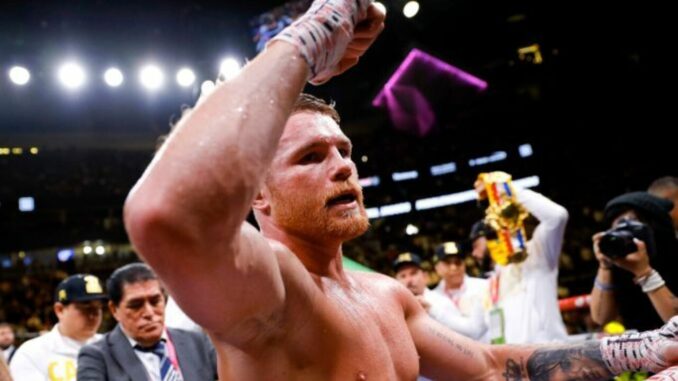 Canelo Alvarez knocked out Sergey Kovalev six weeks ago to acquire the WBO light heavyweight belt. Now, he's vacating the title.
There are no shady dealings or wrongdoing. Alvarez is voluntarily relinquishing the title to comply with the World Boxing Organization's rules, which prohibit champions like Alvarez from holding titles in multiple weight classes from other boxing organizations.
Since Alvarez currently holds the middleweight and secondary super middleweight titles with the World Boxing Association, he had to give up his light heavyweight belt with the WBO. Alvarez is getting something in return, though. 
According to ESPN, the WBO agreed to allow Alvarez to be the designated mandatory challenger to any WBO titleholder in any division he wants to fight in. So Alvarez doesn't have any hard feelings about giving up the belt — in fact, he's looking at it as an opportunity.
Get all the latest Betting and Sport News updates on your social media outlets.
"I know that my accomplishments in the ring have brought pride to my fans and my country," Alvarez said in a statement, via ESPN. "I have long enjoyed my relationship with the WBO and appreciate all they do to preserve and enhance the sport of boxing. This agreement allows the WBO to have its light heavyweight title contested regularly and allows me to pursue bouts against the best opponents, regardless of weight class."
Oscar De La Hoya, Alvarez's promoter and CEO of Golden Boy Promotions, was similarly positive about Alvarez's future.
"We completely support the decision made by Canelo Alvarez and the WBO," De La Hoya told ESPN. "Canelo made history by stopping Sergey Kovalev in impressive fashion to become a four-division world champion. Not only did he show that he is a real threat at 175 pounds, but he also demonstrated that he is fully capable of moving across several divisions to look for the most exciting fights for the fans."
Alvarez, who is 29 years old and 53-1-2 with 36 KOs, has acquired belts in four divisions overall and in three different divisions over the past 12 months.
In December 2018 he knocked out Rocky Fielding to claim the super middleweight title while also being the reigning middleweight world champion.
Alvarez is set to fight again in May 2020, but has yet to decide between middleweight or super middleweight.
Check WagerWeb and find the best online betting site.