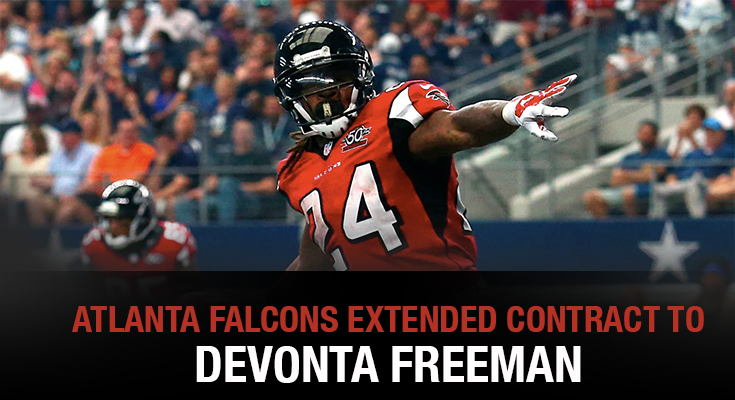 Devonta Freeman became this week in the highest paid running backer of the NFL with a deal of $41 million. So far so good for the player who accumulated 1634 yards from scrimmage and 14 touchdowns in 2015 season. Last season his production was in permanent grow. He got 1541 yards from scrimmage and 13 touchdowns. He joined Tevin Coleman alone with Matt Ryan and Julio Jones in the offensive Falcons line to get as the top notch offensives in NFL with 33.8 points per game. Still, Falcons is figuring out what to do with Coleman and keep the perfect duet in competition. With no questions, both are part of the core team. Remember that Falcons got into the Super Bowl and lost with Patriots in heartbreaking game.
Get all the latest Betting and Sport News updates on your social media outlets. Find us on both Facebook and Google+
Freeman sent this Twitter message to celebrate the deal: "A young boy from the bottom. You put that work in & stay humble, you'll be rewarded. All glory to God. Now we just gotta go get the trophy!" The story of Freeman started in 2014 when he got drafted in the four round. Falcon`s former staff set him as a third down pass receiving back. His overall stats include 2383 rushing yards. Something great about this player is the fact that he never missed a single practice when his deal was in discussion and he never stopped his wishes on playing with Falcons knowing the higher salaries in the roster. Most of the players, this current offseason, didn't care about practices when deals were in discussions. Freeman`s stats can be compared with Pittsburgh Steelers Le´Veon Bell or LeSean McCoy from Buffalo. Those are number 1 and number 2 runnings backers. Still they earn ten times more than Freeman, this one has ten times more heart to play.
From Online Sportsbook, Casino Betting, Sports Odds to Racebook Gambling, WagerWeb offers you the online gambling options.
Check WagerWeb and find the best online betting site.