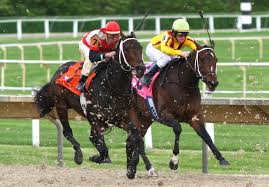 EXACTA (or PERFECTA):
Definition: A wager in which the first two finishers in a race, in exact order of finish, must be picked.
Also Known As: Perfecta, Exactor
Examples: I would like a $2 exacta of 2 over 4.
FIELD HORSE (or MUTUEL FIELD)
Definition: Two or more starters running as a single betting unit, when there are more entrants than positions on the totalisator board can accommodate. Most tracks can now handle enough betting interests that this is not seen as often.
Also Known As: Mutuel Field
Check WagerWeb and find the best online betting site.
IN THE MONEY
Definition: Finishing first, second or third in a race.
Examples: Man O'War finished in the money 21 times in his career.
INQUIRY
Definition: Reviewing the race to check into a possible infraction of the rules. Also, a sign flashed by officials on the tote board during such occasions.
Also Known As: Steward's Inquiry
Examples: The inquiry light is flashing. There is a steward's inquiry into an incident in the stretch.
From Online Sportsbook, Casino Betting, NFL Odds to Racebook Gambling, WagerWeb offers you the online gambling options
LOCK:
Definition: Slang term for a horse that is certain to win.
Also Known As: Sure Thing
Examples: Secretariat was a lock in the Belmont Stakes.
MINUS POOL:
Definition: A mutuel pool caused when one horse is so heavily played that, after deducting the track take, there is not enough money left to pay the legally prescribed minimum on each winning bet. The racing association has to make up the difference so that all pay-offs are at least the minimum amount, usually $2.10 or $2.20 depending on the local rules.
Get all the latest Betting and Sport News updates on your social media outlets. Find us on both Facebook and Google+!