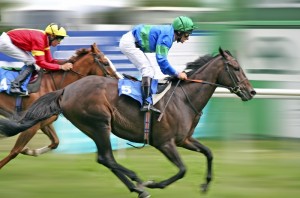 Check WagerWeb and find the best online betting site.
The "POP" Pick 3 Strategy
The pick 3 can be a very profitable wager if a good strategy is used. You will want to be able to single a horse in one leg and have a chance for a nice payout. It makes no sense to play the bet if you single a 2-1 shot with a few other horses in small fields because, even if you win, the payout will be small and not worth the bet. We have developed a pick 3 strategy that is designed to
A) Not cost a lot to play and
B) Has a good chance to pay very well if it hits.
From Online Sportsbook, Casino Betting, NFL Odds to Racebook Gambling, WagerWeb offers you the online gambling options
Here are the rules of play:
– You must have one horse to play as a single in one of the legs. This horse has to be "special" in some way. Morning line odds on this horse has to be equal to or greater than 3-1. The reasoning here is that we are trying to find a pick 3 bet that is not going to be played by everyone at the track. Who needs a pick 3 that pays $35? If you use a horse with a ML of 5-2, 2-1, 9-5, 7-5, etc, chances are it will be heavily bet. So, rule 1 is a special horse with a ML equal to or greater than 3-1. Not a very hard find on a typical card at most tracks IF you have the right information.
– True Odds on this single key horse has to be equal to or less than 6-1. Many of you know a value odds horse can SOMETIMES be a possible outstanding candidate for a single if you are looking to make a nice score. Do NOT use the Value Odds horses as your single key exclusively. There are plenty of nice overlays on the reports that are not Value Odds picks. As you get to know the reports and take notes, you will know rather easily which horse to make your "special" single key.
– The other 2 legs of the pick 3 that coincide with your single play must have a minimum of 8 horses entered. If they are chaos/contentious races all the better.
– Key the aforementioned qualifying single to each horse in the other 2 legs that have True Odds equal to or less than 6-1. The reasoning behind this is that an amazing number of winners have our true odds of 6-1 or less (NOT morning line odds). That threshold of 6-1 is very evident. It is like the Mendoza Line, Mason Dixon Line, etc. Keep in mind it does not matter what the morning line odds are on these horses. Some of these horses are 20-1, 15-1, 12-1, 10-1, etc but as long as their True Odds are 6-1 or less they are a major contender. An amazing thing we find that is there are a lot of these 3-1, 4-1, 5-1 and 6-1 true odds horses paying very well as overlays. Most of the time you will have 4 or 5 horses within this true odds range. This means your ticket will usually cost between $16 and $25 on a $1 base.
– Keep in mind the bankroll rules with this wager as in all wagers. To place a $25 wager you should have a bankroll of $500 (max 5%) or more. If you are going to play pick 3's you should set aside a separate bankroll just for pick 3's. If you have a light bankroll we suggest you do not place this wager or play a light version of it. The light version would be your key single with 3 horses in the other 2 legs each. The 1 horse with 3 horses with 3 horses only costs $9 on a $1 base. You pick any 3 that you want as long as they are within the true odds range.
– If you like a horse within one of the 3 races of the pick 3 that you play, and he is at nice odds, always back up your pick 3 bet with a win bet on that horse. You definitely do not want a $25 horse to win, miss 1 leg of the pick 3 and not cash a ticket on him. You have (or should have) a separate bankroll for win bets and you would follow the usual % of bankroll rules for the win bet.
– Buy a notebook. On the front cover or the side write the words or print a label entitled "Wagering Log". Keep detailed notes and records on all the bets you place and their outcome. This should be done for ALL your wagers. We have a saying around here: "Those who do not take notes or keep a wagering log make it possible for those of us who do cash in on overlays". Something as simple as this can change a player's bankroll. By keeping a notebook, the player becomes more studious by nature. A student of the game will beat this game over time. From Webster's: stu.di.ous – dilligent or earnest in intent. Was it your "intent" to make a profit in this game? Yes, of course. You know what you need to do.
Get all the latest Betting and Sport News updates on your social media outlets. Find us on both Facebook and Google+!