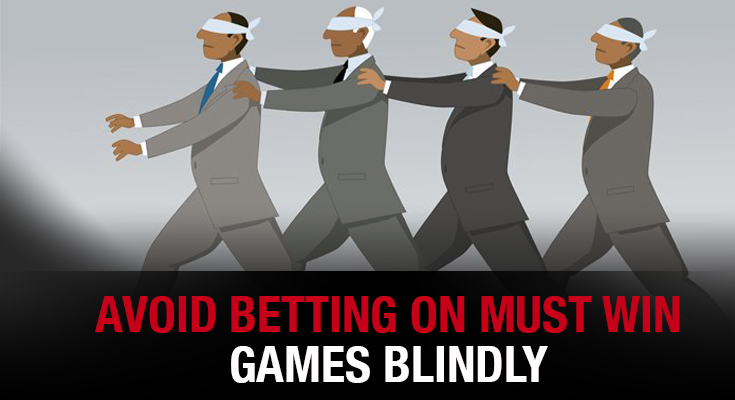 Both NHL and NBA have taken us down to the playoffs, although they provide plenty of drama and entertainment they also provide a very dangerous situation for betting. The sportsbooks understand the fact that a team is in a must-win situation gives them a chance to adjust the odds accordingly and the result ends up being that player's pay a bigger price than they should. The negative effect of this is two-fold as players might think they are making a smart bet based on the must-win situation and odds that appear to support the idea that they will get the job done while also paying a greater price then they should to take that team.
Playing the must-win system is as simple as finding teams that are in a situation where they can't afford to lose and betting on them to win on the moneyline.. Teams that are in must-win situations will give a maximum effort most of the time but it's still important to consider other factors that will play in to the result.
Get all the latest Betting and Sport News updates on your social media outlets. Find us on Facebook and Google+
The numbers aren't exact because they depend on which bets the individual players make based on the information they have. The most obvious factors to consider pertain to the matchup and the opponent that the team in the must-win situation is playing against. If the team in the must-win situation is in that situation in the first place because they have been terrible on the road all year and they are playing on the road again then they are at a disadvantage. If the opponent is a far superior team then it might not make a difference that one team is in a must-win situation. However, if the superior opponent has already clinched a playoff spot and wants to rest its players then that becomes important to factor in to a betting decision. The idea that a team in a must-win situation has a major edge over a team that has been eliminated from playoff contention might seem to make sense on the surface but really you should consider that the team that has been eliminated is playing without any pressure and relishes the role of spoiler. The opponent might also have clinched a playoff spot at the same time is trying to win in order to eliminate the team and avoid a potential playoff matchup. The point is that there are many variables that factor in to the outcome of a game and the fact that a team is in a must-win situation is not enough to bet on them blindly.
There will also be situations where the team in the must-win situation has other factors working in its favor including home ice or a chance to play an inferior opponent but even then the adjusted odds will make betting on that team that much more risky. Join WagerWeb.ag