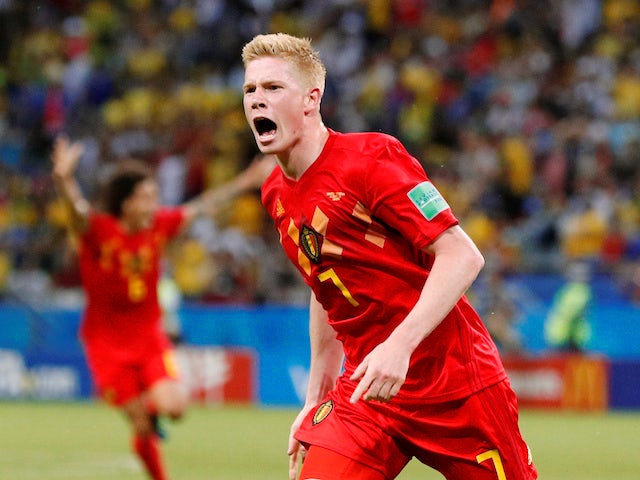 Since taking over as coach of the Belgian national team two years ago, Roberto Martinez has kept the focus on preparing for the next win rather than celebrating the previous one.
He briefly broke from that approach Friday after beating Brazil 2-1 in a World Cup quarterfinal in Kazan, a win that lifted Belgium into the tournament's final four for the first time in 32 years.
It was a victory, Martinez admitted, that deserved to be savored.
"This is beating Brazil in the World Cup, in the knockout [stage]," he said. "Just treasure it and pass it down in the generations."
It was a win over a Brazil team that had posted eight shutouts in its last nine games, including three in the four games in Russia. And one that hadn't trailed in a match since March 2017.
Yet Belgium needed only 13 minutes to end both those streaks, taking the lead on an own goal from Fernandinho.
It was a win over a Brazil team that had given up only four shots on goal in the tournament. But by the time Belgium got its first Friday it led 2-0, scoring on Kevin De Bruyne's right-footed laser from outside the box.
Get all the latest Betting and Sport News updates on your social media outlets
"They were incredible; incredible heart out there," Martinez said of this team. "Sometimes you have to accept that Brazil has got this finesse, that quality that they're going to break you down. They didn't accept it.
"They didn't think for one minute that they were going to give up. And this is something special. These boys deserve to be real special people back in Belgium. I hope that everyone in Belgium is very, very proud."
Now Belgium, unbeaten in its last 24 matches, moves on to meet France in next week's semifinals of what has now become an all-European championship. Another win would take Belgium somewhere it has never been: in a World Cup final.
To get there will require renewed focus, said Martinez, who finished savoring the Brazil victory and began looking ahead before his brief postgame news conference had ended.
Check WagerWeb and find the best online betting site.