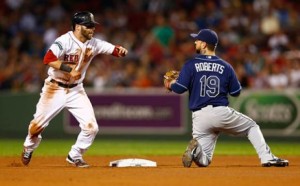 Check WagerWeb and find the best online betting site!!!!
The Tampa Bay Rays return to Tropicana Field after a long nine-game road trip to start a ten-game home stand. Tampa Bay, who entered the road trip 64-66 and 4.5 games back of the second wild card, did not help their chances during the trip that started off with such high hopes. After winning the first two games of the road trip in Baltimore, they lost 5 of the next 7 games, losing 2 out of 3 to both the Yankees and Tigers. The end results are a road trip of 4-5, which is even more heartbreaking with two losses coming in extra innings.
From Online Sportsbook, Casino Betting, Racebook Gambling, WagerWeb offers you the online gambling option.
The Tampa Bay Rays have played well for the most part this season but they are going to fall short of the post-season. The Rays are 5-5 in their last 10 games, 33-35 at home, and they are 11 games back in the AL East. As a team the Rays are hitting .250 with Logan Forsythe hitting .287, Evan Longoria hitting .273, and Asdrubal Cabrera hitting .264. The Rays pitching staff has an ERA of 3.68 with the starters at 3.65 and the bullpen at 3.74. For game one against the Red Sox the Rays start Chris Archer who has allowed 148 hits and 60 earned runs while striking out 228 over 187.1 innings for a 12-11 record and a 2.88 ERA
The Boston Red Sox are in last place in the American League East but they have been more competitive since the All Star Break. The Red Sox are 6-4 in their last 10 games, 27-38 on the road, and they are 13 games back in the AL East. As a team the Red Sox are hitting .267 with Xander Bogaerts hitting .318, Mookie Betts hitting .286, and Brock Holt hitting .279. The Red Sox pitching staff has an ERA of 4.50 with the starters at 4.57 and the bullpen at 4.39. For game one against the Rays the Red Sox start Wade Miley who has allowed 174 hits and 83 earned runs while striking out 129 over 168.2 innings for an 11-10 record and a 4.43 ERA.
Tampa Bay is 8-1 at home against a left-handed starter, 2-5 in their last seven games, and 2-5 in Archer's last seven starts in game one of a series. Boston is 5-1 in their last six games, 2-7 in their last nine road games against a team with a losing home record, and 0-5 in Miley's last five road starts. Tampa Bay is 0-4 in Archer's last four starts against the Red Sox.
Get all the latest Betting and Sport News updates on your social media outlets. Find us on both Facebook and Google+!