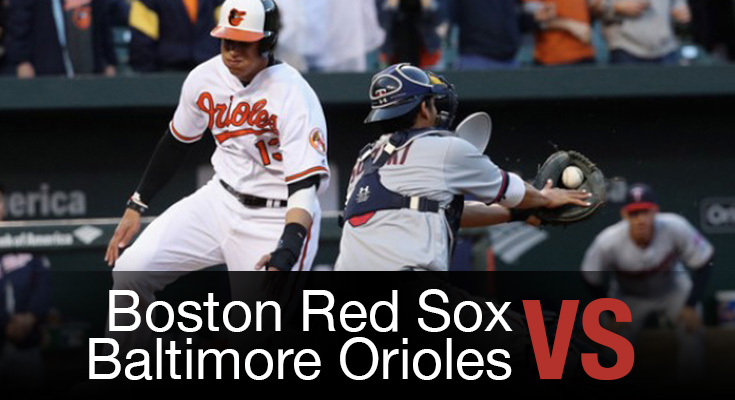 Wednesday MLB action from Oriole Park, the Boston Red Sox and the Baltimore Orioles will be continuing their early-week series.
The success of the Boston Red Sox offense has been attributed to the ageless production of David Ortiz and the long hitting streaks enjoyed by Jackie Bradley Jr. and Xander Bogaerts, but everyone in the lineup is capable of putting up big numbers. Mookie Betts will try to follow up his career day at the plate when the Red Sox visit the Baltimore Orioles in the third of a four-game series on Wednesday.
This will be the third game of a four-game set. On Monday in the opener, the Red Sox took a dominant 7-2 victory. In Tuesday's matchup, the Red Sox scored five times in the first two innings on the way to a 6-2 win.
Get in the action, anywhere, anytime! Check our Live Betting Options!
On Wednesday, the Red Sox will be trotting out right-hander Joe Kelly. In his five starts and 2-0 record this year, Kelly has posted a 6.30 ERA with a 2.00 WHIP in 20 innings. In his 4.2 innings against Toronto on Friday, Kelly gave up five runs on nine hits with three walks.
Boston boasts a pretty stacked lineup at the plate. Xander Bogaerts holds 76 hits with 30 RBI and 42 runs. Mookie Betts has a team-high 49 runs with 65 hits and 40 RBI. Betts smacked a crazy three homers with five RBI on Tuesday. The ageless David Ortiz has a nice 14 homers with 47 RBI and 26 runs.
Support your favorite Player! Start betting now!
Over on the Orioles' side, we'll be seeing right-hander Mike Wright make the start Wednesday. Over nine games (eight starts) and a 2-3 record this year, Wright has put up a 5.05 ERA with a 1.40 WHIP in 46.1 total innings. On Friday, Wright was beat up for three runs on six hits in 4.2 innings against the Indians.
The Baltimore batting order is a pretty solid crew as well. Manny Machado is out front on 64 hits with 38 runs and 29 RBI with 13 homers this year. Mark Trumbo has 56 hits with 28 runs and 37 RBI with a team-high 15 homers. Jonathan Schoop has also played well on 48 hits with 28 RBI and 19 runs. That said, Trumbo and Schoop combined to go 0-for-8 on Tuesday.
The Red Sox are 7-1 in their last eight Wednesday games, and 18-6 in their last 24 game threes of a series.
Meanwhile, the Orioles are 11-5 in their last 16 Wednesday games and 4-1 in Wright's last five starts.
PITCHING MATCHUP: Red Sox RH Joe Kelly (2-0, 6.30 ERA) vs. Orioles RH Mike Wright (2-3, 5.05)
Stay tuned to our blog and learn how to play Online Poker at WagerWeb.