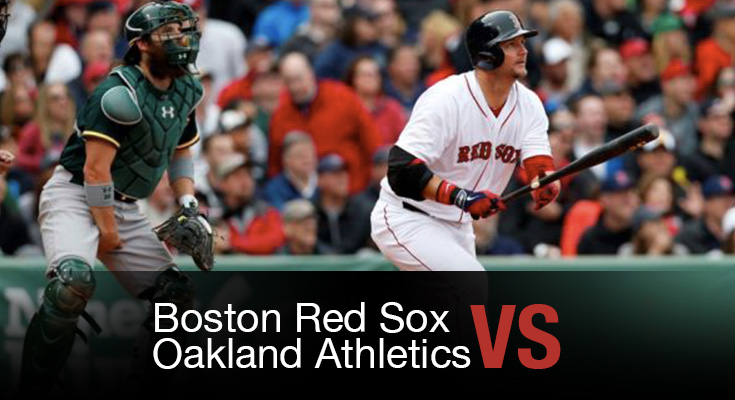 Fenway Park and the Boston Red Sox battle the Oakland Athletics in Wednesday night action.
The Boston Red Sox offense is having its way with the Oakland Athletics pitching staff from every spot in the batting order. The Athletics will try to hold the Red Sox to single digits in runs and avoid a sweep when they visit Fenway Park for the finale of a three-game series on Wednesday.
Oakland Athletics (14-20) at Boston Red Sox (20-13)
MLB Baseball: Wednesday, May 11, 2016 at 7:10 pm (Fenway Park)
E Surkamp (0-2) (5.58) vs. R Porcello (5-1) (2.95)
Get in the action, anywhere, anytime! Check our Live Betting Options!
The Boston bats got the best of the Oakland Athletics for the second straight night with a 13-5 decision on Tuesday night. Athletics Sean Manaea was hit hard with eight runs allowed on ten hits over 2.2 frames with Daniel Coulombe giving up three more. The A's totaled 15 hits and walked once with Coco Crisp driving in a pair while Marcus Semien went 2-4 with an RBI and run. Overall every starter recorded at least one hit. Eric Surkamp will be on the mound to oppose the Red Sox in Wednesday action.  Surkamp has four starts under his belt and has gone 2-2 with a 5.59 ERA over 19.1 innings.
The Boston Red Sox have been crushing the ball and were at their best Tuesday, which overcame some average starting pitching. Red Sox starter Sean O'Sullivan was charged with four runs on 12 hits through six innings which was good enough to pick up the win. The Boston bats amassed 16 hits and a trio of base on balls with Travis Shaw going 3-5 with a homer, five RBI's and two runs while Hanley Ramirez was 3-4 with a homer, two RBI's and three runs. Xander Bogaerts and Chris Young each scored two times each. And every starter but one scored or drove in a run. Rick Porcello toes the rubber against the Athletics looking for his 6th victory. Porcello hopes to bounce back from a 3-2 loss at the Yankees with all three runs plated on six hits and a pair of BB in seven frames.
Oakland is 1-7 in their last 8 overall and are 1-7 in their last 8 games on grass while the over is 15-5-2 in their last 22 Wednesday games. The over is 7-1 in Boston's last 8 vs. American League West and the Red Sox are 11-4 in their last 15 overall while going  11-4 in their last 15 games on grass. Oakland are 16-40 in the last 56 meetings in Boston and the under is 12-5 in the last 17 meetings.
Support your Team! Start betting now!
Pitching Matchups
Monday, May 9 @ 7:10 PM: Clay Buchholz (1-3, 5.71 ERA) vs Sonny Gray (3-3, 4.84 ERA)
Tuesday, May 10 @ 7:10 PM: Sean O'Sullivan (0-0, 9.00 ERA) vs Sean Manaea (0-0, 7.20 ERA)
Wednesday, May 11 @ 7:10 PM: Rick Porcello (5-1, 2.95 ERA) vs Eric Surkamp (0-2, 5.59 ERA)
Key Hitters
Red Sox: Brock Holt
2016 Season (25 Games): .282/.354/.388, 2 HR, 17 RBI
Career vs A's (12 Games): .302/.375/.326, 4 RBI
The Brock Star has recovered from a slump to collect 5 hits in his last 14 at-bats (.357). Holt's batting average plummeted to as low as .246 during his recent slide, but has now bounced back to the range he has been at in his two previous seasons with the Red Sox.
Athletics: Josh Reddick
2016 Season (31 Games): .319/.375/.474, 4 HR, 15 RBI
Career vs Red Sox (24 Games): .294/.354/.506, 4 HR, 17 RBI
The former Red Sox outfielder is having a career year so far. While he hasn't quite displayed the type of power he has in the past, his AVG, OBP and SLG are all at career levels. He's done some damage against his former team in the past, so Red Sox pitchers will need to be wary of Reddick when he steps to the plate in this series.
Stay tuned to our blog and learn how to play Online Poker at WagerWeb.