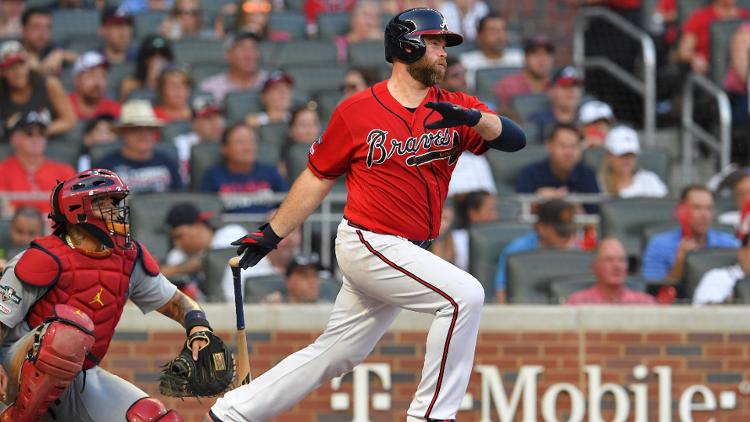 After a decade and a half in the major leagues, Atlanta Braves catcher Brian McCann is calling it quits.
The former All-Star told reporters after the Braves' NLDS loss to the St. Louis Cardinals that he is retiring. Thanks to a one-year contract signed last offseason, McCann's career will end with the same team with which he spent his first nine seasons in MLB.
"This is it for me," McCann said. "I'm going to go home and be a dad, and play with my kids … It's time to go. Fifteen years. It's done."
In 15 years as a major leaguer, McCann racked up a .262/.337/.452 career line with 1,590 hits and 282 home runs, all while directing pitching game plans behind the plate. McCann was a perennial All-Star during his first tenure with the Braves, delivering one of the most dangerous bats from the catching position in the league and accruing seven All-Star nods.
From 2008 to 2016, McCann posted at least 20 homers in every season
A nine-year streak bested only by Mike Piazza and Yogi Berra at the catching position.
Get all the latest Betting and Sport News updates on your social media outlets.
After hitting free agency following the 2014 season, McCann signed a five-year deal with the New York Yankees, where he saw less accomplishment until he was traded to the Houston Astros. There, he won his first career World Series ring in 2017.
McCann later returned to the Braves for one last ride, the perfect setting for a man who was born in Atlanta, grew up in Georgia and was drafted by the Braves back in 2002.
"I went to high school here. I grew up here. I got to play nine years to start my career here," McCann said. "I grew up with some of my heroes growing up, and got to come back and play with the new generation. I'd say that's a success." Of course, McCann's legacy is also described by who he was as a teammate, and the reviews there are quite positive.
Check WagerWeb and find the best online betting site.