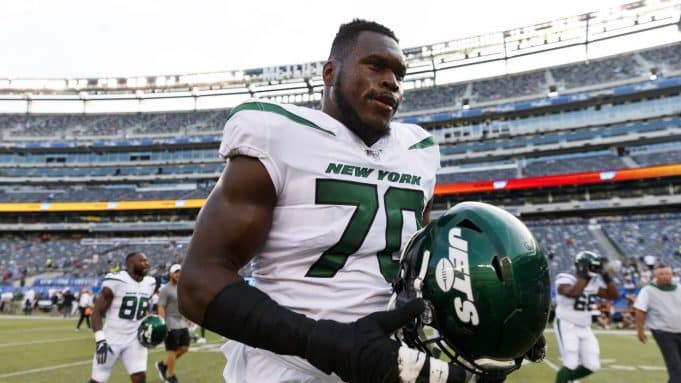 Kelechi Osemele is having surgery on his injured right shoulder — whether or not the New York Jets support it.
The veteran left guard and the team are in a standoff in which Osemele says he needs the season-ending operation now and is waiting for the team to approve the procedure on his torn labrum. The Jets, however, believe he can hold off and play through the injury.
"I'm just getting it done myself," Osemele said Wednesday after he sat out practice.
He said he flew to Boston on Tuesday to receive a third medical opinion and was examined by orthopedic surgeon Dr. Glen Ross, who informed him that his shoulder injury is "pretty bad."
"It's torn off the bone," Osemele said, adding that Ross recommended he have the surgery immediately. Osemele told general manager Joe Douglas on Tuesday that he would be going forward with the operation. Osemele said the team doctor recommended he could play through the injury with pain-killers and a brace, and an independent doctor in California — through a review of the MRI, after originally being sent a blank one by the Jets by accident — recommended surgery only if the symptoms dictated it.
A person with direct knowledge of the situation told The Associated Press last Friday that both doctors determined it is a pre-existing injury and cleared Osemele to keep playing through it — and hold off on the surgery.
Get all the latest Betting and Sport News updates on your social media outlets.
The Jets have been fining Osemele for conduct detrimental to the team for not practicing after missing Saturday and now Wednesday's sessions.
Osemele said he is being docked the maximum allowed under the collective bargaining agreement: $579,000 per week, which is the amount of his game checks.
Osemele said he and his agents have filed a grievance against the Jets, and had a conference call Monday with the NFLPA to discuss the situation. He also believes he'll get the money he is being fined back eventually.
"Pretty confident, considering that legally, the rules are if I can't practice and I'm injured, they have to pay me," he said. "That's how it works. I'm having surgery on Friday, so I can't play. I can't do anything about it."
Check WagerWeb and find the best online betting site.