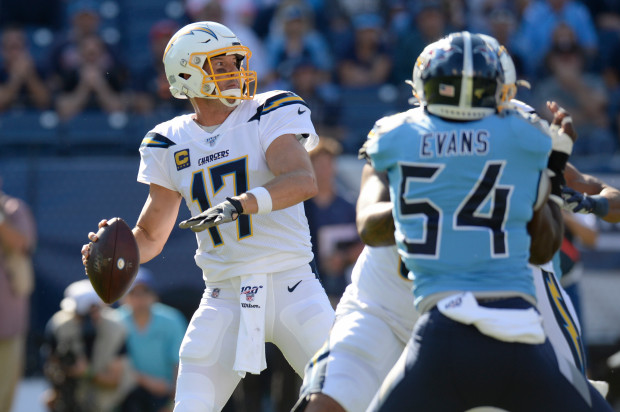 This loss was ugly, but it was one of those games in which the Chargers had their fans jumping up and down with enthusiasm only to fail in incredibly shocking fashion.
The Titans held a 23-13 lead late in the fourth quarter but the Chargers rallied, starting with a 41-yard touchdown pass from Philip Rivers to Austin Ekeler to bring them within three points. After holding the Titans, including stopping them on a 4th-and-inches play around midfield, they only needed a field goal to tie.
The Chargers drove all the way down to the Titans' 1-foot line. They needed to just fall into the end zone, but they also had no timeouts left. On first down, they handed the ball to Melvin Gordon. He bobbled the exchange and fell on it close to the goal line, but replays showed he was short. But let's rewind it a bit. The Chargers got the ball into this position on a 16-yard completion to Ekeler that was initially ruled a touchdown. Replays showed that Ekeler came down just shy of the goal line.
Get all the latest Betting and Sport News updates on your social media outlets.
After Gordon was stopped, the Chargers lined up again with 22 seconds left on the clock. Gordon got the call again and again, fumbled the ball. It came through the pile and after a wild review period on the field, replays showed the Titans recuperated the ball.
The Chargers are now 2-5 and looking at a tough road to make the playoffs.
Gordon's 2019 season has been, in a word, awful. He really felt like he deserved more money? Well, he didn't then and he certainly doesn't now. It's been said before and it might be clear now. The Chargers are better without him. Ekeler had another solid game, despite being given limited snaps due to the team's insistence to work Gordon in. The trade deadline is just over one week away and the Chargers should absolutely consider moving their former first-round pick.
Check WagerWeb and find the best online betting site.