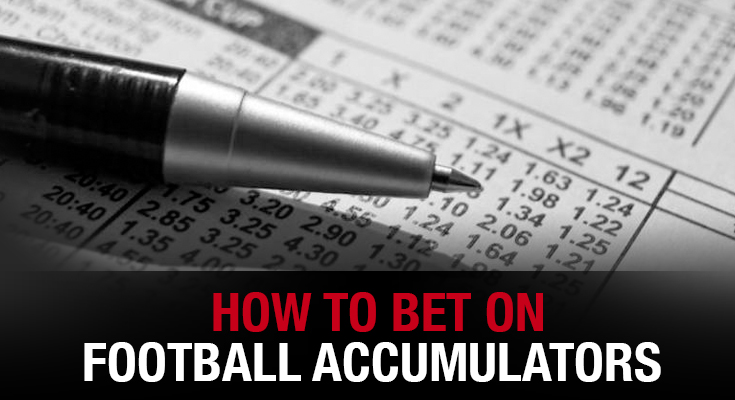 An accumulator is a bet that combines four or more selections into a single wager whereby every selection must win for the bet to be successful. The main advantage of a win accumulator is that the odds/winnings can be much higher, however with this comes greater risk. More and more bookies are now offering a refund on your bet if one team lets you down on any accumulator that contains five or more legs.
Accumulator Bet Slip
The advantage of an accumulator is that winnings are much higher at the expense of increased risk, only a single selection need lose for the entire bet to lose.
In the case of a non-runner, returns are calculated as though the accumulator hadn't contained the selection. For example a six-fold would become a five-fold. Dead heats for a winning position are settled at reduced odds using standard rules.
Accumulators are available for all sports, however sportsbooks vary in their rules on combining selections from more than one to create a single bet. Selections from the same event cannot be combined into a single accumulator this is to prevent anyone trying to place several bets on the same runner. More formally the selections must be mutually independent.
Some bettors like to reduce their risk by placing bets on the folds of their wager so that it is still possible to gain a return even when not all selections win. For example a person placing a 6-fold accumulator might also place a stake on the 6 smaller 5-fold accumulators so that should one selection fail to win, not everything is lost.
Get all the latest Betting and Sport News updates on your social media outlets. Find us on Facebook.
The classic football accumulator is seen by many as a sure fire way to gain maximum return from a minimal stake. That of course, is never the case and in reality there is a lot more to an accumulator than simply picking as many teams as you can to increase the potential winnings from your bet.
The great thing about accumulators is that small stakes can give you huge payouts. They also commit the bettor to the whole bet, for example there is no 'cashing out' option if four of your selections have won but the other three don't play until the following day.
Accumulators are the best way for a causal bettor to get some enjoyment out of a bet, there is far too much margin for error. For that reason the recommendation is to bet in combinations.
Combination betting comes at a higher original stake to an accumulator, because you are placing more than one bet. The advantage of this type of bet is you won't be screwing your slip up at full time with the painful disappointment of one team letting down your whole bet.
With combination betting, the more teams you chose, the more your bet will cost you, but of course, the more profitable it could be. Sign up now WagerWeb.ag