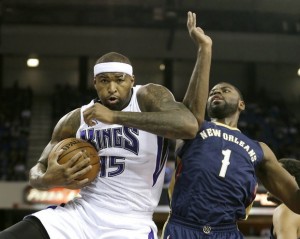 Check WagerWeb and find the best betting site!!!!
The New Orleans Pelicans and the Sacramento Kings do battle tonight at the Sleep Train Arena.
The Pelicans have lost six of their last seven games and are currently on a four-game losing streak after losing to the Lakers by 95-91 last night. Tyreke Evans led the scoring with 21 points, Ryan Anderson had 15 points while Eric Gordon added 14 as the Pelicans lost their second straight game in the absence of Anthony Davis who sat out with discomfort in his back. Davis remains without a timetable for his return so his status for tonight is currently listed as questionable. New Orleans is now 11-26 on the season and 4-17 on the road.
From College Football, Casino Betting, Racebook Gambling, WagerWeb offers you the best online gambling options, check it now!
The Kings have won three of their last five games but are coming off a 128-116 loss to the Warriors. DeMarcus Cousins led the team with 33 points, Rudy Gay added 23 points while Darren Collison had 16 off the bench, but it still wasn't enough for the Kings as the Warriors had Stephen Curry who poured in eight 3-pointers to scorch them for 38 points. Overall, it was still somewhat of a moral victory for the Kings as they matched it with the Warriors for a majority of the game, but they were never good enough defensively as the Warriors finished with 56 percent shooting from the field. With the loss, Sacramento drops to 15-22 on the season and 10-10 at home.
Pelicans probable starters
PG Tyreke Evans 6-6, 220 (16.4 points per game, 6.1 rebounds, 7.1 assists, 1.5 steals SG Eric Gordon 6-4, 215 (15.1 ppg, 2.1 rpg, 2.6 apg, 0.9 spg) SF Dante Cunningham 6-8, 230 (4.1 ppg, 3.4 rpg, 0.5 apg, 0.4 spg) PF Anthony Davis 6-10, 253 (22.8 ppg, 10.8 rpg, 1.6 apg, 2.5 bpg) C Omer Asik 7-0, 255 (3.0 ppg, 4.8 rpg, 0.4 apg, 0.4 bpg).
Kings probable starters
PG  Rajon Rondo 6-1, 186 (11.7 points per game, 6.4 rebounds, 11.6 assists, 1.9 steals SG Ben McLemore 6-5, 195 (7.5 ppg, 2.1 rpg, 1.2 apg, 0.8 spg) SF Rudy Gay  6-8, 230 (18.0 ppg, 6.8 rpg, 1.8 apg, 1.2 spg) PF Quincy Acy  6-7, 240 (4.0 ppg, 2.6 rpg, 0.4 apg, 0.3 bpg) C DeMarcus Cousins 6-11, 270 (25.6 ppg, 10.8 rpg, 2.7 apg, 1.3 bpg).
Injury report
Pelicans: Forward Quincy Pondexter (knee) out for rest of season. Forward Anthony Davis (back contusion) questionable. Kings: Forward Omri Casspi (back soreness) doubtful. Guard James Anderson (hamstring strain) questionable. Forward Duje Dukan (tibia bone contusion) out.
Get all the latest Betting and Sport