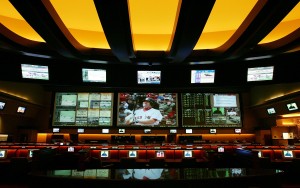 A point spread is installed for game that tabs the favorite as well as the underdog in a particular match up. The favorite gives points, while the underdog receives points on the betting line. This handicap is installed based on what oddsmakers believe will make it an even match up. The bet is placed on which team a bettor believes will cover the line. The bet is won by picking the correct team that wins against the spread. The underdog does not necessarily have to win the game outright to cover the installed spread for them as the favorite can win the game but still not cover the spread. Spreads go strictly by margin of victory/defeat.
Check WagerWeb and find the best online betting site!!!!
he money line and and the point spread aren't that dissimilar from each other. There is a favorite, and an underdog set in the match up. But the big difference is that there is no point spread installed for either team. The bet is placed on which team that is believed to win the game straight up with no spread. Yes, this sounds easier, but the payouts are a lot different than with a point spread. The payout on a favorite is typically very low, with much more required to risk to profit. The opposite is true for the underdog, where the payout can be much higher because they are not favored to win. A money line is set on a $100 parameter.
From Online Sportsbook, Casino Betting, NFL Odds to Racebook Gambling, WagerWeb offers you the online gambling options
Every match up for a game will typically have three basic straight wagers, of which two we've discussed. A point spread, and a money line are two of them. The third is a game total. The game total is set for the two teams combined points, runs, or goals in the match up. From there, a bet can be placed on whether the game total will go over that mark, or go under that mark. Betting on game totals is particularly attractive because you do not need to root for one team or the other but rather for offense or for defense. If you wager the over, you don't care who wins as long as they are scoring a lot of points & the opposite can be said for the under.
Get all the latest Betting and Sport News updates on your social media outlets. Find us on both Facebook and Google+!