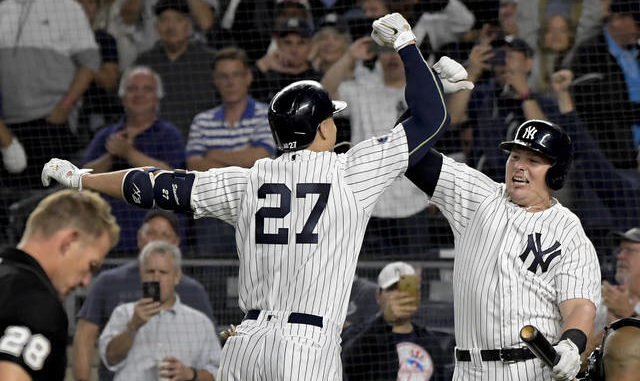 Aaron Judge got the party started with a two-run homer nine pitches in. By the time Giancarlo Stanton capped the mauling with monstrous drive in his postseason debut, New York Yankees fans already were looking ahead.
"We want Boston!" they chanted.
"It's going to be intense," CC Sabathia predicted after the Yankees pounded the Oakland Athletics 7-2 on Wednesday night to win their second straight AL wild-card game.
New York will take a train to Boston for a best-of-five Division Series starting Friday night, a matchup of 100-win heavyweights.
"I think they're ready and relish the opportunity to go up against the game's best this year," Yankees rookie manager Aaron Boone said of his players.
Boone remains a dirty word among the Fenway Park faithful. His 11th-inning homer in Game 7 of the 2003 AL Championship Series beat the Red Sox. A year later Boston overcame the Yankees and became the first major league team to bounce back from a 3-0 postseason deficit. The Red Sox went on to win their first World Series since 1918, but Boone's drive off Tim Wakefield has not been forgotten or forgiven.
Get all the latest Betting and Sport News updates on your social media outlets
The Yankees likely will turn to well-rested lefty J.A. Happ in Friday's Game 1 of the Division Series against Chris Sale and the Red Sox.
"The pressure is on Boston, there's no doubt about it," Hall of Famer Dennis Eckersley said on the TBS broadcast.
This ALDS is primed for drama between two teams that have been engaging in playoff-like games all season. The Sox barely edged the Yanks, 10-9 in the season series, though the final six games meant almost nothing for the Sox, who lost four of them.
On paper, it's an even matchup.
Offensively, the Red Sox rank first and the Yankees rank second with 5.41 and 5.25 runs per game, respectively. The Yanks do it with the long ball (267 regular-season home runs, most all-time); the Red Sox do it with batting average (.268, best in MLB by nine points).
The pitching numbers almost are a mirror image of one another. The Red Sox had a 3.75 ERA, the Yankees finished with a 3.78 ERA. The Sox allowed 176 homers, the Yanks allowed 177.
Home-field advantage gives the Red Sox an edge, as they went 7-3 against the Yanks at Fenway this year and just 3-6 at Yankee Stadium.
Check WagerWeb and find the best online betting site