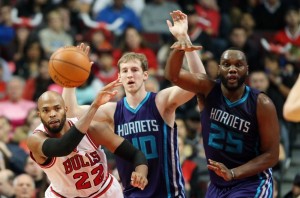 Check WagerWeb and find the best betting site!!!!
Chicago Bulls (3-1) at Charlotte Hornets (0-3)
NBA Basketball: Tuesday, November 3, 2015 at 7:00 pm (Time Warner Cable Arena)
The Line: Charlotte Hornets +4 — Over/Under: 193
The Chicago Bulls look for their second road win to get off to a fast 4-1 start. The Chicago Bulls are averaging 99.5 points on 43.5 percent shooting and allowing 95 points on 39.6 percent shooting. Jimmy Butler is averaging 19.5 points and six rebounds while Nikola Mirotic is averaging 18.8 points and 6.8 rebounds. Pau Gasol is grabbing 7.8 rebounds and Derrick Rose is dishing 5.5 assists. The Chicago Bulls are allowing just 24.7 percent shooting from deep and have won 11 of their last 14 regular season games when allowing less than 100 points. The Bulls are playing as well as you could have hoped under new coach Fred Hoiberg. Kirk Hinrich is questionable with a toe injury.
From College Football, Casino Betting, Racebook Gambling, WagerWeb offers you the online gambling option.
The Charlotte Hornets need a win after a tough 0-3 start to the year. The Charlotte Hornets are averaging 93.3 points on 39.1 percent shooting and allowing 98.3 points on 44.7 percent shooting. Kemba Walker is averaging 16.3 points and 5.3 assists while Nicolas Batum is averaging 13 points and 7.3 rebounds. Marvin Williams is grabbing nine rebounds and Jeremy Lin is dishing 3.3 assists. The Charlotte Hornets are getting just 58.7 points from their starters and are one of six teams that is shooting under 40 percent. The offensive struggles for the Hornets have clearly carried over from last season. The good news is that four of the Hornets last five wins have come on their home court.
The Bulls are 7-3 ATS in their last 10 road games and 1-4 ATS in their last 5 games overall. The Hornets are 3-0-1 ATS in their last 4 games vs. a team with a winning S.U. record and 3-1-1 ATS in their last 5 games overall. The Bulls are 6-2 ATS in the last 8 meetings in Charlotte.
Pay attention to Frank Kaminsky and Spencer Hawes in this game, too. Kaminsky, despite limited playing time so far, has almost unquestionably played better than Hawes so far, and it's only a matter of time before the rookie overtakes the veteran in minutes. There might not be a better time to illustrate the difference between the player's abilities early in the season than this game, where athletic big men will have to play a large role no matter what.
The Hornets have played well so far, but not well enough to earn a win just yet. Despite playing against perhaps the biggest challenger for the Eastern Conference title, the Hornets will have a pretty good shot to get their first win of the season on their home court.
Observations
▪  Bulls big man Joakim Noah has bought into coming off the bench, which allows the Bulls to start Nikola Mirotic at power forward, where he's is a classic "stretch 4."
▪  If the Hornets don't win tonight, there is a distinct possibility they could start the season 0-6, facing a tough trip to Dallas and San Antonio.
Get all the latest Betting and Sport News updates on your social media outlets. Find us on both Facebook and Google+!