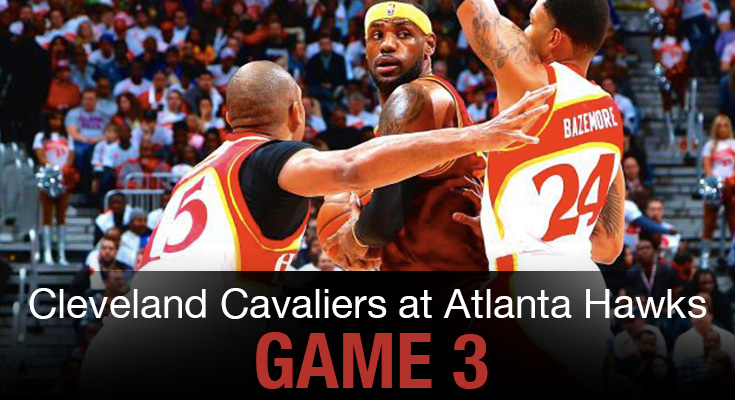 The Cleveland Cavaliers made 25 threes, on game 2 against the Atlanta Hawks, the most in NBA history for a game, playoff or regular-season.
The Cavaliers broke several long distance records during the contest. The Cavs made 18 3-pointers in the first half and added seven more after halftime to embarrass the Hawks, who have lost 10 straight postseason games to Cleveland.
It was inevitable that The Cavaliers would be making history on this night. It was just a matter of when. The postseason record was eclipsed after Kyrie Irving hit back-to-back threes with 5:06 remaining in the third quarter, giving his team 22. They went into the final quarter with that amount.
The Cleveland Cavaliers and Atlanta Hawks meet Friday night for game 3 at the Phillips Arena.
The Cleveland Cavaliers can pretty much put this series to bed by winning here and taking a 3-0 lead. The Cleveland Cavaliers are averaging 106.8 points on 46 percent shooting and allowing 95.2 points on 45.1 percent shooting.
The Atlanta Hawks need a victory here in order to have any shot of getting back in this series. The Atlanta Hawks are averaging 99.3 points on 41.8 percent shooting and allowing 98.8 points on 40.2 percent shooting.
Cavs vs Hawks Schedule
Game 1: Cleveland Cavaliers 104, Atlanta Hawks 93
Game 2: Atlanta Hawks at Cleveland Cavaliers, 8 p.m. Wednesday
Game 3: Cleveland Cavaliers at Atlanta Hawks 7 p.m. Friday
Game 4: Cleveland Cavaliers at Atlanta Hawks, 3:30 p.m. Sunday (ABC)
Game 5, if necessary: Atlanta Hawks at Cleveland Cavaliers, time TBA Tuesday, May
Game 6, if necessary: Cleveland Cavaliers at Atlanta Hawks, time TBA Thursday, May 12
Game 7, if necessary: Atlanta Hawks at Cleveland Cavaliers, time TBA Sunday, May 15
Most 3-Pointers Made By A Team In An NBA Playoff Game
TEAM
OPPONENT
DATE
3S
Cleveland
vs. Atlanta
May 4, 2016
25
Golden State
at Houston
April 24, 2016
21
Seattle
vs. Houston
May 6, 1996
20
Dallas
vs. L.A. Lakers
May 8, 2011
20
Golden State
at Houston
May 25, 2015
20
Cleveland
vs. Detroit
April 20, 2016
20
Houston
at Utah
April 29, 1995
19
Boston
vs. Philadelphia
May 3, 2002
19
Dallas
at Sacramento
May 10, 2003
19 (2OT)
— The Associated Press
Information from The Associated Press was used in this report
Get all the latest Cavs news and updates on your social media outlets.