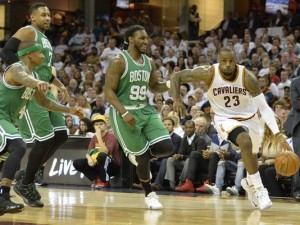 Check WagerWeb and find the best betting site!!!!
The Cleveland Cavaliers (15-7) and the Boston Celtics (14-10) finally meet for the first time this season in what should be an emotion-filled contest this evening. Tipoff is at 7:30 p.m. (ET) from the TD Garden.
Cleveland (15-7) opened their road trip with a 111-76 win at Orlando on Friday. The 35-point win was Cleveland's biggest of the season and their largest margin of victory over the Magic in team history (previously 32 on November 24, 2014)
From College Football, Casino Betting, Racebook Gambling, WagerWeb offers you the online gambling option.
The Cavaliers have a NBA-high four road wins by at least 30 points since February 20, 2015 (regular season only). Prior to that, the Cavs had just two 30-point road wins in their entire franchise history. (STATS, Inc.)
Boston (14-10) enters Tuesday's contest having won three of their last four with that one loss coming in a 124-119 double-overtime loss to the Golden Stat Warriors this past Friday.
The Celtics are led by their dynamic backcourt tandem of Isaiah Thomas and Avery Bradley. Thomas averages team-highs in points (20.8) and assists (6.7) per game while Bradley chips in 16.3 points per.
Cavaliers' probable starting lineup: 6-3 Matthew Dellavedova (8.7 ppg, 5.4 apg), 6-4 Jared Cunningham (3.9 ppg, 1.2 rpg), 6-8 LeBron James (26.4 ppg, 7.7 rpg, 6.4 apg), 6-10 Kevin Love (17.8 ppg, 11.2 rpg) and 7-2 Timofey Mozgov (7.3 ppg, 4.1 rpg).
Celtics' probable starting lineup: 5-7 Isaiah Thomas (20.8 ppg, 6.7 apg), 6-4 Avery Bradley (16.3 ppg, 43% 3-pt), 6-7 Jae Crowder (12.5 ppg, 4.5 rpg), 6-10 Amir Johnson (7.6 ppg, 5.9 rpg) and 6-10 Jared Sullinger (12.5 ppg, 4.5 rpg).
Get all the latest Betting and Sport News updates on your social media outlets. Find us on both Facebook and Google+!