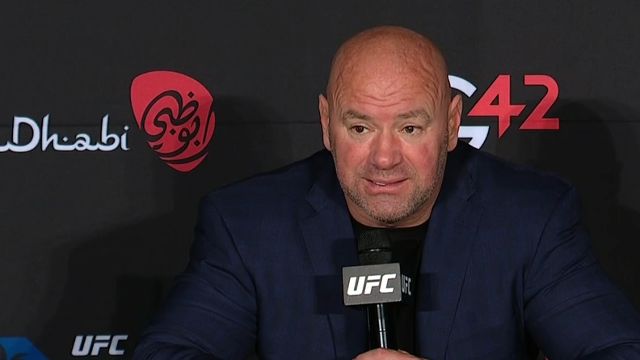 The UFC's 2021 debut on ABC was big news for everything that happened inside the Etihad Arena in Abu Dhabi, United Arab Emirates, on Saturday, and everything that didn't.
Max Holloway put on one of the most punishing, one-sided displays of boxing in UFC history, landing a record 445 significant strikes in his unanimous decision triumph over Calvin Kattar. Despite absorbing all of that damage, Kattar stood up to the barrage and made it to the final bell.
But just as big as Holloway's declarative statement for a return shot at the featherweight championship was, the biggest question going into the night centered around the recently retired Khabib Nurmagomedov.
While Nurmagomedov announced his retirement after defeating Justin Gaethje in October, Dana White has been actively trying to draw him back into the fold for one more megafight, with Conor McGregor the likeliest opponent.
Get all the latest Betting and Sport News updates on your social media outlets.
White promised an update on Nurmagomedov's position on a return fight, and while there wasn't a definitive answer either way, White's assertion that Nurmagomedov could be persuaded back into action with a particularly dominant performance in either of two key fights at UFC 257 — set to be headlined by McGregor and Dustin Poirier — left the door open a crack.
With an eye toward the fallout of Saturday's events, Brett Okamoto answer some of the UFC's most pressing questions as they project what's to come.
A rematch versus Khabib Nurmagomedov is Conor McGregor's to lose
Okamoto: One million percent. Nurmagomedov has spent the past two years basically saying he has no interest in McGregor, but the narrative around McGregor has changed in the past two years. After Nurmagomedov defeated him in 2018, McGregor's career was really up in the air. It was not a question of whether he was about to retire but rather what he wanted out of the sport at that point.
A money fight once a year? Or did he want to try and get back to where he was in 2016, at the top of the lightweight division?
Would that loss to Nurmagomedov reignite his desire to be the best in the world, the same way he was obsessed with evening the score with Nate Diaz in 2016? It appears to have done the latter. McGregor looks motivated, just as he appeared motivated in 2020, before circumstances out of his control interrupted his plans for the year.
If he looks great versus Poirier and someone hands him a mic, McGregor is going to be the obvious choice to fight Nurmagomedov; and based on White's comments on the matter, I now expect Nurmagomedov to take that fight, if offered.
Check WagerWeb and find the best online betting site.