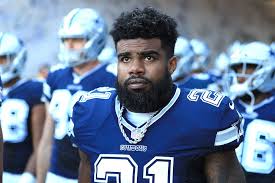 A federal appeals court ruling on Thursday allowed the N.F.L. to impose a six-game suspension on the Dallas Cowboys running back Ezekiel Elliott over domestic violence allegations.
The court's decision, which went 2-1 in favor of the N.F.L., was a blow to the Cowboys and, for now, bolstered Commissioner Roger Goodell's power to dole out penalties for off-field issues. While the suspension is considered to be immediate, Elliott will have some time to pursue means of delaying or overturning the suspension, because the Cowboys do not play a game in the next 10 days. But without another court ruling, Elliott cannot practice with the Cowboys.
The appeals court, in vacating the injunction Thursday, ruled that the district court had lacked subject-matter jurisdiction to adjudicate the players' union's appeal of the suspension.
Get all the latest Betting and Sport News updates on your social media outlets.
In a statement Thursday evening, the players' union said it was "reviewing the decision and considering all options."
A somewhat rocky start to the season for Elliott — possibly caused in part by the distraction of the looming suspension — has contributed to Dallas's rocky 2-3 start to the season. At this point last season, Elliott, who helped lead the Cowboys to a 14-2 record as a rookie, had 546 rushing yards and five touchdowns. This year he has 393 yards and two touchdowns, and his average yardage per game is 78.6, a significant drop from his average of 108.7 for all of last season.
When the union filed its case in defense of Elliott in Texas, the N.F.L. filed a separate motion in the Southern District of New York, in which it argued that that court was the appropriate venue for the league and its players to settle their disputes. The league's headquarters is in Manhattan, and other cases, including a suspension fight between the league and the New England Patriots quarterback Tom Brady, have been heard in Manhattan.
The Cowboys have a bye in Week 6 and do not play again until Oct. 22, so the union has more time to file motions before Elliott's suspension keeps him out of a game.
Check WagerWeb and find the best online betting site.