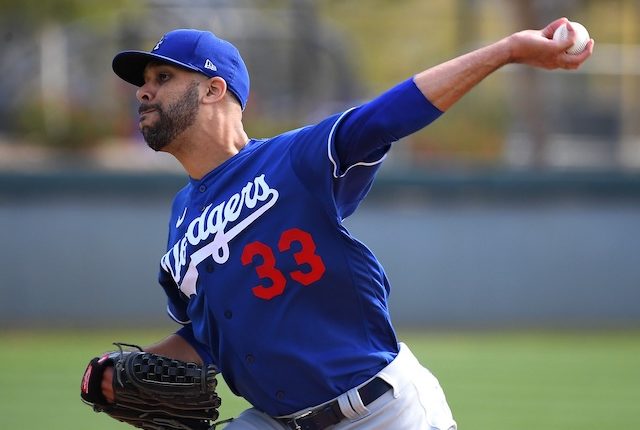 David Price, in his first match action since left wrist surgery in September, said he considered his Dodgers debut on Monday a success.
The linescore wasn't as generous. Price was charged with two earned runs on three hits with two walks and three strikeouts in 1 1/3 innings in a 6-2 defeat to the Reds.
"It's been a while since I faced hitters wearing a different jersey," said Price. "Where I'm at in Spring Training, two live and first outing, it's very positive for myself. First time I've been in a game for six, almost seven months. My legs were shaking out there. If you love what you do, you're going to have nerves and I definitely had them out there today. It was fun. I enjoyed getting back out there. Wasn't missing by much. For the first time, I'm OK with it."
Get all the latest Betting and Sport News updates on your social media outlets.
Manager Dave Roberts appeared OK with it as well.
"He was just missing," said Roberts. "I thought the ball was coming out good. Just to get him out there for a first outing, Dave's going to be just fine."
The Dodgers had to take Price — and half of the remaining $96 million on his contract — to pry Mookie Betts from the Red Sox. Price stated it doesn't sting being known as the salary dump in the Betts trade.
"It's OK," he said. "This is a business. I learned that when I was traded from Tampa. I was naïve at the time, thought I'd be a Ray for life and Andrew [Friedman] broke my heart. Teams are going in different routes than they used to and some of it I understand, some of it I don't. If I was in the owner's seat, I try to wrap my head around it that way. No hard feelings on my part. My job is to play baseball."
Price is coming off left wrist surgery for a circulation condition he said dates back to his days in Tampa, which ended in 2014 when current Dodgers president of baseball operations Friedman, then Tampa's general manager, traded him to Detroit. Price said the surgery worked.
Check WagerWeb and find the best online betting site.