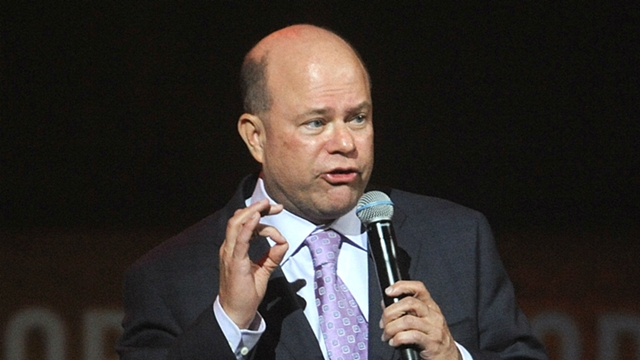 Pittsburgh Steelers minority owner David Tepper is expected to sign the deal Tuesday to buy the Panthers and keep them in Carolina, a league source told ESPN's Seth Wickersham and Adam Schefter.
The deal would be expected to be approved at the owners meetings in Atlanta on May 22. The purchase needs to get approval from the NFL financial committee and then three-fourths approval from the 32 owners.
Because Tepper, 60, is a minority owner of the Steelers, he has already passed the league's vetting process. He currently owns 5 percent of the Steelers and would have to sell that interest before completing the Panthers' purchase.
Tepper, the founder of the global hedge fund firm Appaloosa Management who has a net worth of $11 billion according to Forbes, is committed to keeping the team in Charlotte.
The Panthers were put up for sale after the 2017 season following sexual harassment and workplace misconduct allegations against owner Jerry Richardson that were published by Sports Illustrated in December.
Get all the latest Betting and Sport News updates on your social media outlets
David Tepper, who is expected to sign the paperwork to purchase the Panthers, according to a source, is committed to keeping the team in Charlotte.
Under league rules, Tepper must put up at least 30 percent of the selling price. Forbes placed the value of the Panthers at $2.3 billion in September 2017. Anything over the $2.2 billion that the NBA's Houston Rockets sold for in 2017 would be a record for a sports franchise in the United States.
Tepper grew up in a lower- to middle-class neighborhood in Pittsburgh and received a degree in economics from University of Pittsburgh. Early in his career, he worked as a credit analyst at Goldman Sachs.
Ben Navarro, the founder of Charleston, South Carolina-based Sherman Financial Group LLC, was considered with Tepper to be the top candidates to get Richardson's recommendation. Fanatics owner Michael Rubin and CEO and chairman of Bedrock Industries LP Alan Kestenbaum were also reported to be interested in becoming primary owners of the franchise.
Check WagerWeb and find the best online betting site.