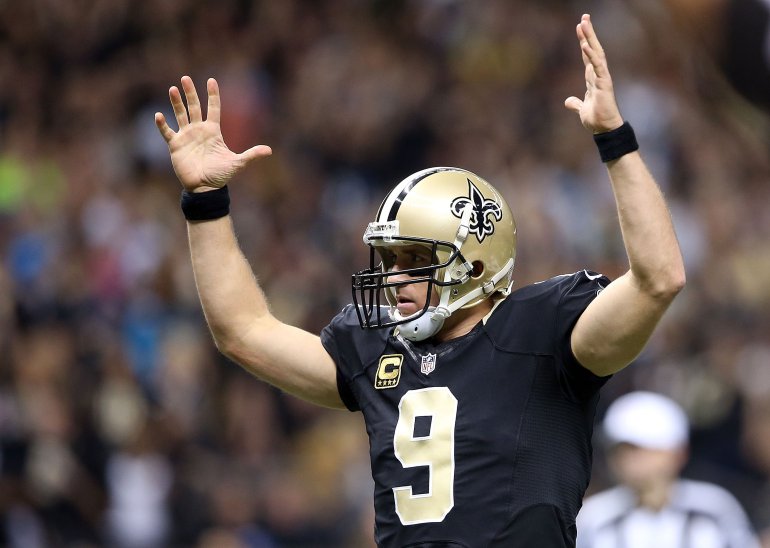 Drew Brees passed Peyton Manning to become the N.F.L.'s leader in career passing yards, breaking the record in the second quarter of a 43-19 win over the Washington Redskins on Monday.
Brees, the prolific New Orleans Saints quarterback who is in his 18th season, came into the game in third place, behind both Manning's 71,940 and Brett Favre's 71,838. He passed Favre with a 1-yard touchdown pass to Josh Hill, and then exceeded Manning's total with a 62-yard catch-and-run touchdown by Tre-Quan Smith.
Play was briefly suspended as Brees celebrated with teammates on the field before being greeted on the sideline by his family. The ball from the touchdown pass was immediately handed to a representative of the Pro Football Hall of Fame so it could make its way to Canton, Ohio.
A visibly excited Brees was overheard on the broadcast telling his children, "You can accomplish anything in life if you're willing to work for it!"
His wife, Brittany, kept her eye on the prize, telling Brees "Go win this game."
That Brees would pass Manning was a foregone conclusion. Manning, who retired in 2016, had long seen Brees in his rearview mirror, and talked openly before the season about how the record would soon change hands.
"He deserves it," Manning told The Times-Picayune of New Orleans. "He's been a great player for a long time."
Get all the latest Betting and Sport News updates on your social media outlets
Unlike Manning, who backed into the record by getting it during of one of the worst individual performances of his career — a 2015 loss in which he completed just 5 of 20 passes for 35 yards and four interceptions — Brees thoroughly dominated the Redskins, completing 26 of 29 passes for 363 yards and three touchdowns. His third touchdown, a 35-yard pass to Smith, was the 499th of his career, and he even officially completed a 1-yard pass to himself by diving forward to keep possession of a throw that had been deflected.
Numerous records appear to be in peril this year: There have been 14 400-yard passing games through five weeks of the season, which is not only a record but more than the previous four seasons combined. Even a perennial leader in passing yards like Brees has had to work hard to keep up — after Monday's game, he was still 69 yards behind the N.F.L.'s leader, Jared Goff of the Los Angeles Rams. Brees became the 11th quarterback this season to break the 1,500-yard mark, which gives each an average in excess of 300 yards a game.
Check WagerWeb and find the best online betting site