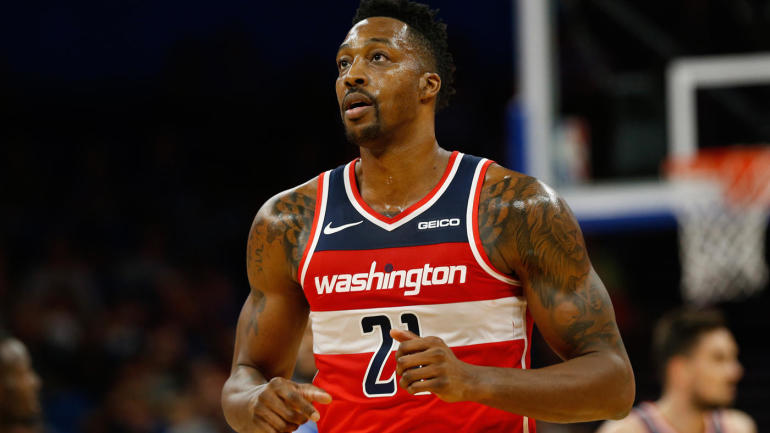 Washington Wizards center Dwight Howard will likely need a surgical procedure in order to provide relief from a lingering gluteal injury that has sidelined him throughout the early parts of this season, according to a report from ESPN's Adrian Wojnarowski.
Howard, 32, has appeared in just nine games for the Wizards on the season after signing a two-year, $11 million deal with the organization in free agency over the summer. Washington has gone 4-5 in the games that Howard has played.
The report also stated surgery came from the recommendation from a nerve specialist in Los Angeles area Thursday, but Howard may seek out another opinion before making a final decision. The recommended procedure would cause him to miss a large portion of the regular season.
According to Wojnarowski, a nerve specialist recommended Howard undergo surgery, but Howard could seek a second opinion before he decides his next step. Were he to have the procedure, Howard could miss a large chunk of the season, per Wojnarowski.
Get all the latest Betting and Sport News updates on your social media outlets
Howard has proved durable throughout his career, appearing in fewer than 71 games only once (in non-lockout-shortened seasons) during his first 14 years in the league. That includes his 81 games with the Charlotte Hornets last season.
The eight-time All-Star missed the start of the 2018-19 season, and just nine games into his return to the court, he once again found himself sidelined by a piriformis injury.
Previously, Howard's only major injuries had been of the shoulder (2012-13) and knee (2014-15) varieties.
When Howard has been on the court, he has been productive. He is averaging 12.8 points and 9.2 rebounds in 25.6 minutes per game. Those may be a long way from his career averages (17.4 points and 12.6 rebounds), but they are still respectable totals.
Howard's injury means Washington will have to rely on Ian Mahinmi and Thomas Bryant down low. But as long as John Wall and Bradley Beal are playing, the Wizards will have a chance to be competitive.
Check WagerWeb and find the best online betting site.