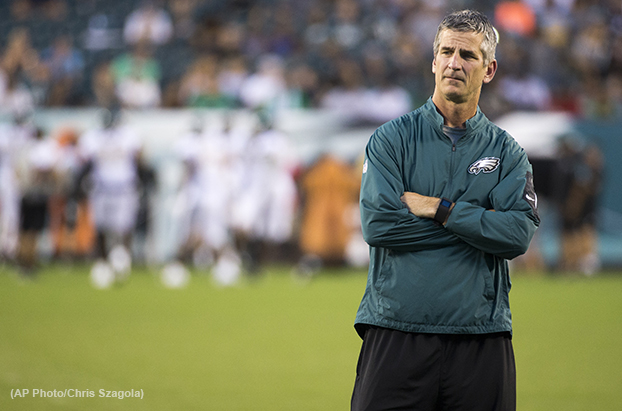 Eagles offensive coordinator Frank Reich was named the next Indianapolis Colts head coach on Sunday, making him the second Eagles assistant coach to earn a new job during the weekend.
Reich, 56, has been with the Eagles during the past two seasons as Doug Pederson's top assistant on offense. He will take the job that remained vacant when New England Patriots offensive coordinator Josh McDaniels backed out last week after reaching an agreement with the Colts. Reich was previously an assistant coach with the Colts from 2008-2011 and spent 13 years as an NFL quarterback.
Get all the latest Betting and Sport News updates on your social media outlets.
Although Reich did not call plays for the Eagles, he had a big role in the offense. He helped create and install the system when Pederson arrived and was a key sounding board for Pederson. The two would meet for more than an hour on the night before games and go over the play sheet.
He also helped in the decision to draft Carson Wentz and in the development of the quarterbacks on the roster as part of the quarterback-focused coaching staff that the Eagles assembled in 2016. His job included funneling information from Pederson to the position coaches and back to Pederson.
"As the role of offensive coordinator, that's what you do: you coordinate," Reich said last month. "You take all the great resources that you have as far as the staff and our head coach, and you pile your ideas together and then you've got to narrow them down and that's what we do. And we get a lot of good input from a lot of different ways, and that's fun. I mean, it's fun to work with the guys we work with and have the players that run those plays."
"We are excited to have Frank Reich as our new head coach," General Manager Chris Ballard said in a written statement. "Frank is a leader of men who will demand excellence from our players on and off the field. I look forward to working with Frank to deliver a championship-caliber team to the city of Indianapolis."
Check WagerWeb and find the best online betting site.