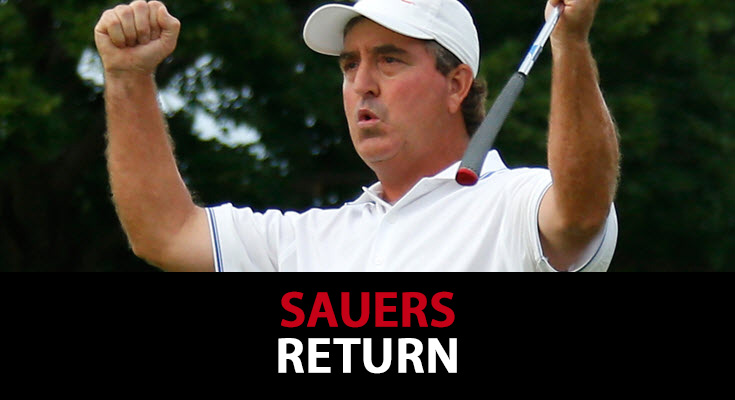 When Gene Sauers won last year's United States Senior Open, it was his first victory of any kind in 14 years. His reward was a place in this year's United States Open at Erin Hills, Wisconsin. Sauers, 54, was competing in his first Open in 30 years, and didn't make the cut, he was just glad to be in the field. During the past six years, he wasn't sure he would ever be back.
In 2011, Sauers was hospitalized for seven weeks with Stevens-Johnson syndrome, a milder form of toxic epidermal necrolysis, which badly blisters or erodes the skin. "I almost died," he says, "When I got better, they told me I had a 25 percent survival rate. […] So I don't take any day for granted." Sauers carried that mind-set to Salem Country Club where he began the defense of his Senior Open title.
Sauers won three times on the PGA Tour, including his first title at the 1986 Bank of Boston Classic. In 2005, though, while battling a bulging disk and an increasing contempt for the demands of tour life, Sauers essentially walked away from pro golf. Not yet 43, he saw his career come to an abrupt hiatus after a missed cut at the Reno-Tahoe Open that summer.
From Online Sportsbook, Casino Betting, Golf Odds to Racebook Gambling, WagerWeb offers you the online gambling options.
He settled in Savannah, GA, focused on his family, until his health began to deteriorate in 2010. It began with pain in his shoulders and soon spread. In April 2011, his wife detected a black spot the size of a silver dollar underneath his left arm. It looked like frostbite, so she sent a photo of it to his doctor, who advised her to take her husband immediately from their home to Duke University Medical Center in Durham, N.C. By the time Sauers arrived, his body was stained with black marks. They were told that he had contracted a rare, life-threatening skin condition.
Stevens-Johnson syndrome is typically the result of an immune-system failure, and those who endure it complain that they feel as if their skin is burning from the inside out. Blood vessels in Sauers's arms and legs were clotting. Doctors treated him as if he were a burn victim, removing layers of the charred-black skin. He spent weeks in the hospital, enduring skin grafts and waiting for his body to heal. He couldn't leave his bed for five weeks, and laid there, to his surprise, picturing a golf swing.
So after he was discharged in June of that year, Sauers began chipping and hitting putts on his backyard putting green and then to play complete tracks. Not much after he was convinced that getting back to pro golf was worth the shot.
Get all the latest Betting and Sport News updates on your social media outlets. Find us on both Facebook and Google+
In October 2011, Sauers played in three Web.com Tour events and missed all three cuts. He had no business being there, but as his 50th birthday — and with it the chance for eligibility on the PGA Champions Tour — approached, he began to envision a new lease on his golf life.  Four years later, he had gathered more than $2 million in earnings in his first four seasons of eligibility, but a victory still eluded him.
Two years later, several months after he switched to a cross-handed putting grip, where his left hand grips the club below his right, Sauers found himself standing over another short putt on the tournament's final hole. That day, Sauers was tied with Miguel Ángel Jiménez when the latter missed a par-saving putt. Five feet separated Sauers from his first senior title. He said: "The last thing I thought about before I stroked the putt was one of my buddies, who always says, 'You're either going to miss it or make it.'' Sauers made it.
At the Masters, in April this year, Sauers was the recipient of the Ben Hogan Award, which is given annually to an individual who has remained active in golf despite a physical handicap or serious illness.
Check WagerWeb and find the best online betting site.