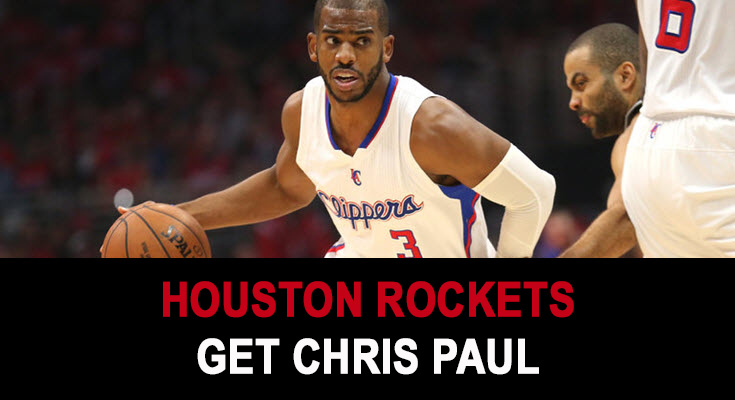 The Los Angeles Clippers traded Chris Paul to the Houston Rockets on Wednesday, according to a league official briefed on the deal.
Paul's contract was due, and he could have gone to the Rockets as a free agent. The Clippers worked out the deal so they could receive something in return for him. The transaction will allow Paul to make more money than he would have if he had left as a free agent.
The Clippers will receive seven players in exchange, including Patrick Beverley, Lou Williams and Sam Dekker, and a 2018 first-round pick, multiple news media report. The deal will also grant salary-cap space for them in the near future.
From Online Sportsbook, Casino Betting, NFL Odds to Racebook Gambling, WagerWeb offers you the online gambling options.
At 32 years old, Paul is a nine-time All-Star. He will now share team with a genuine superstar, James Harden, to give the Rockets a formidable lineup to challenge the Golden State Warriors in the Western Conference.
Harden became the Rockets' regular point guard last season, shifting over from shooting guard. The move was successful: his assists per game soared to a league-leading 11, and his scoring output continued solid. Now the team may have to rethink things with the arrival of Paul, one of the league's premier point guards.
Coach Mike D'Antoni's may find difficult to make Paul fit his up-tempo offense. Because of Harden's full embrace of his coach system, the Rockets ran the third-fastest offense in the N.B.A., averaging 102.5 possessions per game. The Clippers were 17th at 98.2 possessions, which was in line with the last three seasons.
Get all the latest Betting and Sport News updates on your social media outlets. Find us on both Facebook and Google+
Paul's age and injury history also make him a fair risk. He played in 61 games last season, missing time because of surgery to his thumb. It was the third time in his career in which he missed 20 or more games. His ability to steal the ball frequently — he is the career leader in steals among active players — has contributed to problems with his fingers over the years.
The Clippers can suffer more confusion because Griffin is also a free agent, and he could choose to join forces with Russell Westbrook and the Thunder in his hometown, Oklahoma City. If he leaves, the Clippers will have lost their two top scorers, and despite they still have DeAndre Jordan, it would seem to be the end of a successful era for the team. After years of enduring in the shadow of the Lakers, the Clippers finally surpassed them recently. The team has had five straight 50-win seasons, the first ones in its history. But it has failed to advance past the second round of the playoffs.
Check WagerWeb and find the best online betting site.