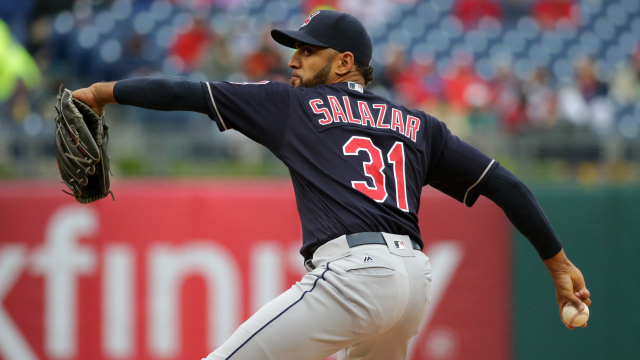 The Indians announced Thursday that Salazar will be about two weeks behind the rest of pitchers in spring training because of a strained right rotator cuff suffered in January during his off-season throwing program. Salazar has thrown just 237 1/3 innings over the last two years because of right shoulder and elbow problems, could open the season on the disabled list.
Indians pitchers and catchers reported to spring training in Goodyear, Ariz. on Wednesday.
"He's got some inflammation or irritation in there, so we shut him down for a little bit, but he's now back throwing," Chris Antonetti, Indians director of baseball operations, told reporters in Goodyear, Ariz.
Get all the latest Betting and Sport News updates on your social media outlets.
"What we're focused on right now is just making sure that Danny's ready to contribute for the bulk of the season the way we all know he's capable of and if that's opening day, great. If it's later than that, that's fine. I think what we want to make sure we do is take the long view and try to get the most out of Danny for the bulk of the season."
Last season Salazar went 5-6 with a 4.28 ERA. He was averaging 12.67 strikeouts per nine innings, but couldn't stay healthy. He went on the DL in June with a sore right shoulder and in August with a sore right elbow.
The last time Salazar was a consistent member of the rotation was in 2015 when he went 14-10 with a 3.45 ERA in 30 starts. He has never thrown more than 185 innings in a season.
"It's frustrating because, obviously, you want to pitch, help your team," said Salazar, who told reporters he was feeling much better. "You want to be part of the crew when everybody gets here and everybody's playing catch out there, throwing long toss and things like that. You want to do that, but you just have to take it easy and work on what you need to work on to get ready.
"You saw what happened last year. I was out of the rotation for a while. All the guys, Clevinger, Tomlin, Kluber, Carlos, Bauer, they were doing an amazing job. I want to be there, but if I'm out, I know somebody else has my back and they're going to do a good job right there."
Check WagerWeb and find the best online betting site.