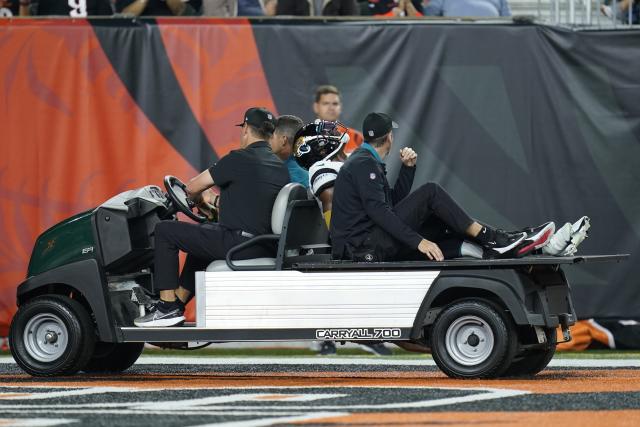 The Jacksonville Jaguars placed wide receiver DJ Chark on injured reserve Monday due to a fractured left ankle he suffered early in Thursday night's loss to Cincinnati, and head coach Urban Meyer stated it's unclear how long Chark will be out.
In addition, the Jaguars placed right guard A.J. Cann on IR with a right MCL injury and activated offensive tackle Walker Little from the reserve-COVID list.
"It's going to be awhile," Meyer said of Chark and Cann. "Someone has to step up. [OL Ben] Bartch went in and played, played pretty well when he was in there. He's been one of our most improved players."
Get all the latest Betting and Sport News updates on your social media outlets.
If Chark's injury ends his season, Thursday could be the last match Chark plays for the Jaguars.
He was in the final year of his rookie contract and was facing a prove-it year after Meyer called him out in the spring by saying he needed to be tougher and play more physical.
Chark had gotten off to a slow start in 2021, with just seven catches on 22 targets for 154 yards and two touchdowns. Chark missed a month of camp and preseason after having surgery to repair a broken finger on his right hand.
He said recently the plate they placed in his hand still remains and the finger does still bother him at times.
The Jaguars drafted Chark in the second round in 2018. He had a rough rookie season but rebounded in 2019 by catching 73 passes for 1,008 yards and eight touchdowns and making the Pro Bowl.
Chark caught 53 passes for 706 yards and five touchdowns last season and he admitted he let his frustration with the way the season was going and the inconsistent play from the quarterbacks bleed into his on-field performance.
Cann is in the final year of a three-year, $15.05 million contract he signed before the 2019 season. Cann has missed just five games since the Jaguars drafted him in the third round in 2015.
Check WagerWeb and find the best online betting site.