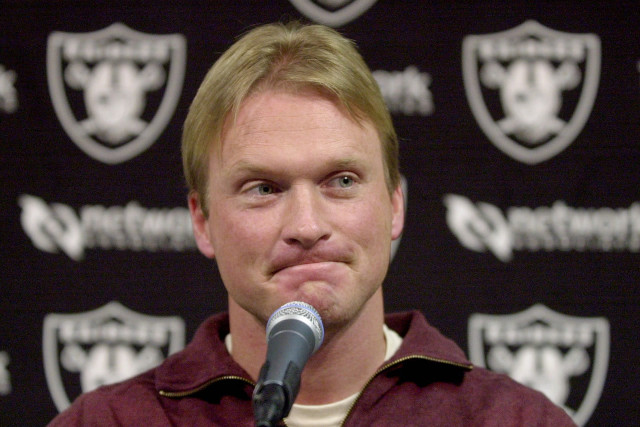 On Tuesday, the Oakland Raiders re-introduced Gruden as their new head coach and quite possibly, the savior they've been searching for ever since they booted him out the door all those years ago. His welcoming felt more like a crowning ceremony than a standard press conference, even if it took place in the middle of a weight room across the street from the airport on a gloomy, overcast day in Oakland. Field turf placed over the floor served as the red carpet while Charles Woodson, Rich Gannon, and countless other ex-Raiders functioned as Gruden's apostles.
Get all the latest Betting and Sport News updates on your social media outlets.
"This is a big effing deal," he said moments before Gruden took the stage alongside Davis and general manager Reggie McKenzie.
During his 30-minute Q&A session with reporters, Gruden hit on all the required topics. He confirmed that he's hired Greg Olson as his offensive coordinator, Paul Guenther as his defensive coordinator, and Rich Bisaccia as his special teams coordinator. He revealed that he'll be the one calling the plays. He addressed Derek Carr's potential and Marshawn Lynch's future (unknown at this point). He found time to sneak in a reference to the tuck-rule game (spoiler alert: he still thinks Tom Brady fumbled). At one point, he even called himself insane.
After agreeing to a massive $100 million contract that spans 10 years, Gruden will now have a chance to write a new ending with the Raiders.
Davis said he had been trying to bring Gruden back for six years ever since taking over the franchise following his father's death. He said he thought he had been close four times before and the opportunity was finally right this year after more than a dozen cross-country recruiting trips to Tampa, Florida.
Gruden brings intensity to the sideline and the meeting rooms that made him a fan favourite in his first stint, earning him the nickname "Chucky" after the character in the 1980s slasher movie "Child's Play."
Some of Gruden's former players said the new Raiders are in for something they've never experienced before.
"Either you buy in or you're not going to be a part of it," said Hall of Famer Jerry Rice, who played one year for Gruden. "I hope these players are ready because they're going to get Chucky. They're going to get him. Now how they deal with that is a different story but Chucky's going to come out."
Check WagerWeb and find the best online betting site.