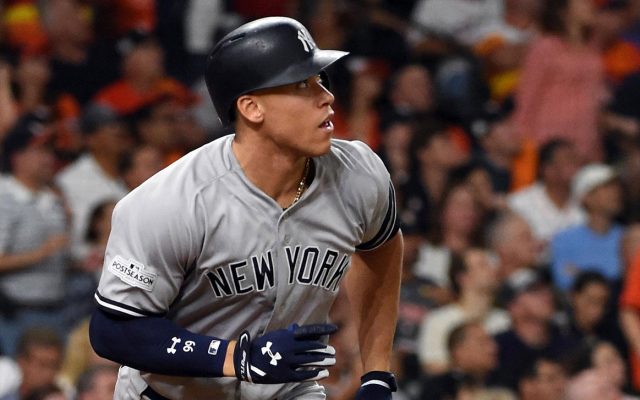 Aaron Judge won't be ready when the New York Yankees wrap up their three-game series with the Minnesota Twins on Wednesday at Target Field, but his return from the disabled list is getting closer by the day.
"I'm confident he will be back," Yankees manager Aaron Boone said, "but I don't want to get too far ahead. Let's keep getting through these days as we continue to build. He's on a good track to be back hopefully sooner rather than later."
Judge worked out Tuesday afternoon before the Yankees fell to the Twins 10-5 and reported no issues with the right wrist he fractured July 26. He wore a protective sleeve on the wrist for precautionary reasons but will continue working through the weekend.
"We have a little bit of an idea of timeline, but I'd rather it continue to unfold every day," Boone said. "He'll hit again tomorrow. We obviously have the off-day Thursday and I think the work [will be] pretty extensive, hopefully, over the weekend. We'll probably have a decision of how we're going to go about things."
The reigning AL Rookie of the Year was batting .285 with 26 home runs and 61 RBIs when he got hurt.
Get all the latest Betting and Sport News updates on your social media outlets
Yankees starter Luis Severino's last start didn't go as well as he'd liked, either. The right-hander lasted 2 2/3 innings, allowing six runs in an 8-2 loss to the A's.
"It was a mess," Severino said. "I think I need to do a better job and communicate more with [catcher] Gary [Sanchez], and try to get better."
Boone gave Severino an extra day of rest by handing the ball to Sonny Gray for a spot start Tuesday.
"We just felt it was a good thing to do, especially with a couple of the off-days coming up," Boone said. "It's a chance to get everyone on back-to-back turns. An extra day or two here or there will hopefully show its effects over the end of the season and into the postseason."
Severino (17-7, 3.52 ERA) is 4-5 with a 6.83 ERA in 11 starts dating back to July 7. He allowed three runs in one-third of an inning in last season's AL wild-card game won by the Yankees 8-4 and yielded three runs in three innings of his only regular-season start against Minnesota last September.
Check WagerWeb and find the best online betting site