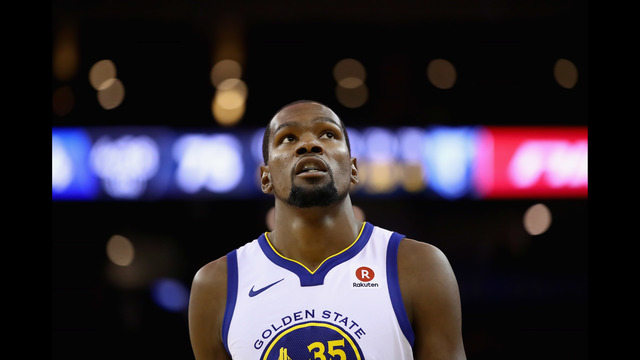 All-Star forward Kevin Durant told ESPN's Rachel Nichols on Thursday that he will re-sign with the Golden State Warriors this summer.
Durant is finishing the first year of a discounted two-year, $51 million deal with the Warriors that included an opt-out clause for the 2018-19 season.
"I'm planning on staying with the Warriors, and we'll figure the rest out," Durant said, before adding that only the "small details" remained to be figured out.
In April, sources told ESPN's Chris Haynes that Durant would decline the player option and become an unrestricted free agent this summer so that he could re-sign with the Warriors on a restructured deal.
Considering Durant and the Warriors are on the verge of their second consecutive championship, with Durant a strong candidate for a second Finals MVP, this news doesn't come as a shock. That said, the possibility was always on the table for KD to explore other options if he felt like he wanted a new challenge. With Golden State, he's averaged 25.7 points, 7.5 rebounds, 5.1 assists and 2.6 combined blocks/steals while shooting 52.5 percent from the field and 40.0 percent from deep.
Get all the latest Betting and Sport News updates on your social media outlets
The team is likely to make this deal its main priority, letting Klay Thompson become an unrestricted free agent next summer before booting up conversations, with Draymond Green looming soon after in the 2020 offseason.
The Warriors are bound to get extensive revenue from their new state of the art Chase Arena that is bound to open in San Francisco, as well as the booming TV revenues that have helped the increase of the salary cap every season.
Durant has received the comfort that he was looking for while playing alongside Stephen Curry, Klay Thompson, Draymond Green and under coach Steve Kerr.
If Durant stays and the Warriors can keep their core together, they will undoubtedly be the favorites to win what could be their fourth title in five years next season (if they win their current series, of course).
Check WagerWeb and find the best online betting site.