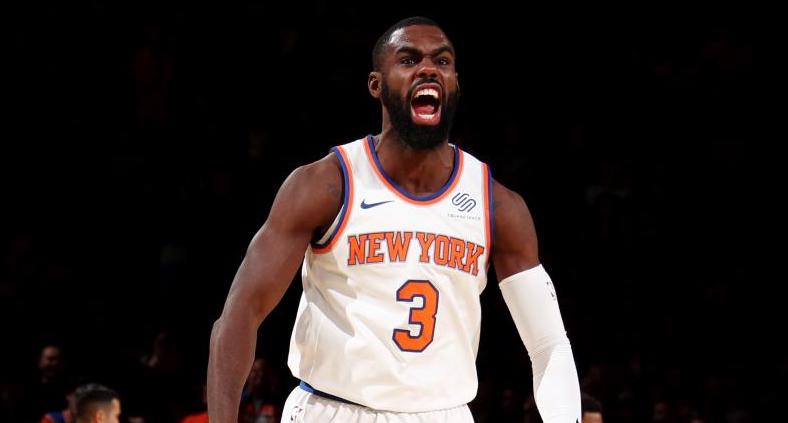 Tim Hardaway Jr. missed the past two Knicks games due to injury, and he's now in line to miss even more. The Knicks announced Tuesday that he is currently rehabbing for a stress injury in his lower left leg, which will likely sideline their second-leading scorer for at least two weeks.
Hardaway first missed time in a loss to Orlando on December 3. He missed the next game as well — also a loss — but both games did not feature Kristaps Porzingis.
Get all the latest Betting and Sport News updates on your social media outlets.
When Hardaway signed his contract offer from New York over the offseason there was a strong reaction to it due to how much he was making. While it's debatable on if he's met the standards set by that contract, he's so far proven to be a suitable player for the Knicks — averaging a career-high 17.8 points per game — and one they rely on. That said, the bigger loss the last two games has been Porzingis. The Knicks would rather have Hardaway playing than not, but they should be able to survive the two weeks without him.
"We'll figure it out," Michael Beasley said. "We did at the beginning of the season when Tim was in his slump. So hopefully it's not long-term with Tim. I wish him all the best. We love him. Just got to figure it out as a team."
The "slump" Beasley referenced was Hardaway shooting just 26% in the first four games of the season. The Knicks won just one of those games. Following criticisms about his robust contract, Hardaway quickly demonstrated his improvements on defense and with his playmaking. He leads the team in minutes per game (34.1), a career high.
The Knicks will likely split his minutes between a group of players for as long as the setback forces him out of the rotation. Doug McDermott, Damyean Dotson and Lance Thomas could all see an uptick in playing time.
Ultimately, New York should have enough wing depth in order to fill a short-term void. An extended absence would create a bigger issue, however, especially since Hardaway has been playing more like the Knicks expected when they drafted him in the first round in 2013.
Check WagerWeb and find the best online betting site.