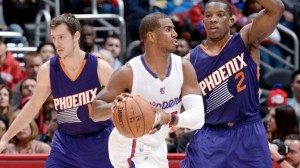 Check WagerWeb and find the best betting site!!!!
Where: Talking Stick Resort Arena: Phoenix, AZ
When: 8:30 PM Arizona Time / 10:30 PM Eastern
The Phoenix Suns (3-4) are playing at home tonight against a good Los Angeles Clippers (5-3) team, who is coming off a a tough road loss to the Dallas Mavericks last night, in what had the feel of a revenge game with DeAndre Jordan as the target, in his first return to Dallas since agreeing to sign with the Mavs as a free agent, then waffling, and ultimately spurning them this off-season.
The Pacific Division rivals are trying to chase the Golden State Warriors who lead the pack, with the Clippers second with a 5-3 record, while the Suns are third with a 3-4 record so far this season.
Both teams are looking for victories after they dropped their last games in the league and a win over a division rival should restore their confidence moving forward in this young season.
The Suns are trying to avoid losing for a third straight time as they face the Clippers.
From College Football, Casino Betting, Racebook Gambling, WagerWeb offers you the online gambling option.
The Los Angeles Clippers need a big win after losing three of their last four games. The Los Angeles Clippers are averaging 105.4 points on 47.3 percent shooting and allowing 101.4 points on 41.7 percent shooting. Blake Griffin is averaging 28.6 points and 10 rebounds while Chris Paul is averaging 16.5 points and 7.5 assists. DeAndre Jordan is grabbing 13.3 rebounds and Lance Stephenson is dishing 2.4 assists. The Los Angeles Clippers are coming off a Wednesday loss to the Mavericks in which they allowed 55.3 percent shooting and allowed 65 second half points. The Clippers have allowed 100-plus points in five of their eight games and are forcing under 13 turnovers per game. J.J. Redick is questionable with a back injury.
The Phoenix Suns need a big home win to get back to a .500 record. The Phoenix Suns are averaging 102.1 points on 42.8 percent shooting and allowing 102.3 points on 46.2 percent shooting. Eric Bledsoe is averaging 21.9 points and 6.1 assists while Brandon Knight is averaging 17.9 points and 4.3 rebounds. Tyson Chandler is grabbing 10.9 rebounds and Markieff Morris is dishing 1.4 assists. The Phoenix Suns are shooting 35.3 percent from beyond the arc and grabbing 47.3 rebounds per game. The Suns have allowed 100-plus points in seven of their last 11 games and are forcing 15 turnovers. The Suns have lost six of their last nine home games
Matchups:
Eric Bledsoe vs. Chris Paul
Brandon Knight vs. J.J. Reddick
P.J. Tucker vs. Lance Stephenson
Markieff Morris vs. Blake Griffin
Tyson Chandler vs. DeAndre Jordan
Get all the latest Betting and Sport News updates on your social media outlets. Find us on both Facebook and Google+!