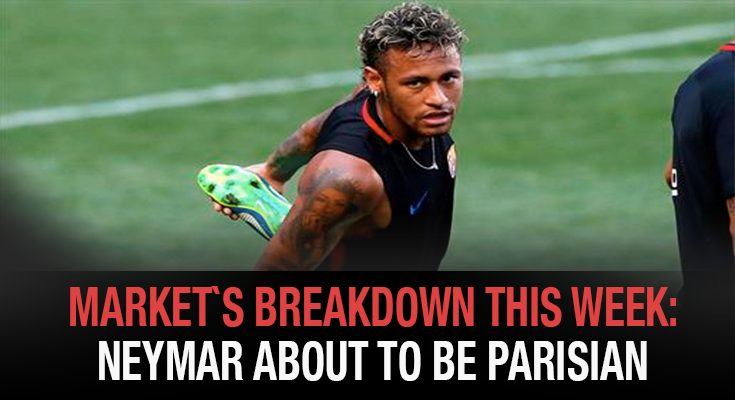 Too much media covering in the past week. Nobody understands his intentions, did he get bored about being third in a soccer equation? Or is just about the money? How much money PSG can give away? Will that transfer give some cash flow to the soccer business? His profile never pointed to this insane move. Will answer one by one. First, and personally talking, Neymar`s best skills have been developed in Barcelona but it looks the show still easy when you are surrounded by stars and golden balls. His protagonism maybe is not enough because of Mess, Iniesta, Rakitic and Suarez media eclipsed. He needs to understand what`s his role is; it's like being a production assistant for a movie, and without him, the structure falls apart. The same could happen next in PSG when Di Maria, Cavanni, Dani Alves gets media attention from their neat and stunning plays. Soccer is about being collective, not individual. To me, that`s a not valid argument when choosing where to go. If he wants the golden ball, be more patient and wait two more years at Barcelona.
Get all the latest Betting and Sport News updates on your social media outlets. Find us on both Facebook and Google+
Yes, certainly, if the deal is positive, Dybala, Coutinho and Griezmann will be on the scope of Barcelona's interest,  looking for a replacement in an affordable deal. Sampaoli, head coach of Argentina's team, will turn on this deal for sure. Plus, who will say no by playing with Messi in an offensive strategy? Yes, maybe my eyesight is looking to Barcelona`s side instead of the benefit, Neymar can get from the deal.
From Online Sportsbook, Casino Betting, Sports Odds to Racebook Gambling, WagerWeb offers you the online gambling options.
PSG money machine is too much. What's the deal with Oil Business from Middle East investing in soccer? Let me give the amount again: two hundred and fifty millions of euros, rescission clause only. Fuuu… Keeping myself calm, Barcelona can train new players in the next years. La Masia es one of best soccer schools from the planet. These boys really put their heart in soccer. And yes, probably this money will get into a few executive and director pockets, at least in a fancy dinner. But is true, that some money will be send into education. Good players will come up soon.
Check WagerWeb and find the best online betting site.
Well, soccer boys, let`s wait a little longer to see what happens. Now we need to enjoy saturday`s soccer game at Miami, Barcelona against Real Madrid, for the second time history, these two teams play overseas, there`s none friendly matches between these two. And definitely everybody will be talking or maybe gossiping about Neymar`s arrangement. From his side, will be worried in scoring goals as usual and providing a good preseason game.