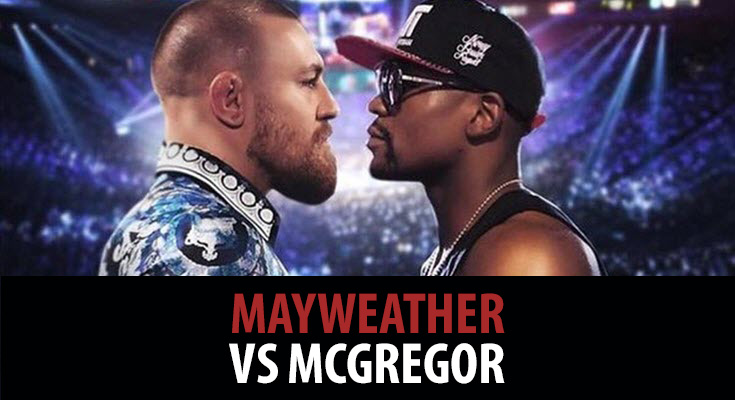 The Floyd Mayweather-Conor McGregor show is officially on. Mayweather, boxing's previous pound-for-pound king, and McGregor, the UFC's biggest superstar, launched their joint promotional tour on Tuesday inside Staples Center.
The four-stop tour, promoting their August 26 boxing match at T-Mobile Arena in Las Vegas, ends in London next Friday. The pay-per-view event will air on Showtime and is likely to produce hundreds of millions of dollars in revenue.
McGregor, 28, addressed fans and media first, and was quick to call the tour exactly what it is – a spectacle for the ages. "Somebody's '0' has got to go," said McGregor, referring to Mayweather's perfect boxing record.
From Online Sportsbook, Casino Betting, MMA Odds to Racebook Gambling, WagerWeb offers you the online gambling options.
Mayweather, 40, who is coming out of a retirement that began in 2015, briefly teased a fight onstage, before saying, "We'll save that for the payday."
Mayweather's manager, Leonard Ellerbe, told reporters the attendance for the news conference was 11,000. Tickets to the event were free. The crowd was extremely pro-McGregor, and for his part, McGregor suggested the attendance was more like 20,000. Both stars gave fans what they came for.
UFC lightweight champion Conor McGregor showed up wearing a custom three-piece suit with a hidden message ("F— you") in the pinstripes. With a record of 19-3 in MMA, he promised a quick knockout of the undefeated boxer and poked fun at Mayweather's "TMT" sweatshirt.
Get all the latest Betting and Sport News updates on your social media outlets. Find us on both Facebook and Google+
True to his "Money" nickname, Mayweather (49-0 in boxing) countered with insults of McGregor's paychecks to this point in his career. McGregor owns the highest-reported disclosed purse in the sport of MMA: $3 million for his welterweight rematch against Nate Diaz last August. Mayweather's pledge in 2015 against Manny Pacquiao was $100 million.
McGregor reminded the crowd he is joining under a "restrictive" rule set, pointing out that boxing obviously won't allow him to throw kicks, knees and elbows in the bout. Mayweather said he would "kick ass" in any arena, to which McGregor replied, "Don't be talking s—."
Halfway through Mayweather's speech, officials decided to turn off McGregor's microphone. He continued to shout at Mayweather, though. The two ultimately moved to the front of the stage and jawed at one another as they squared off, with UFC president Dana White standing in between.
Check WagerWeb and find the best online betting site.
Most experts are not predicting a close fight. Mayweather is considered the best boxer of his generation and is heavily favored in this fight; McGregor has never boxed professionally.