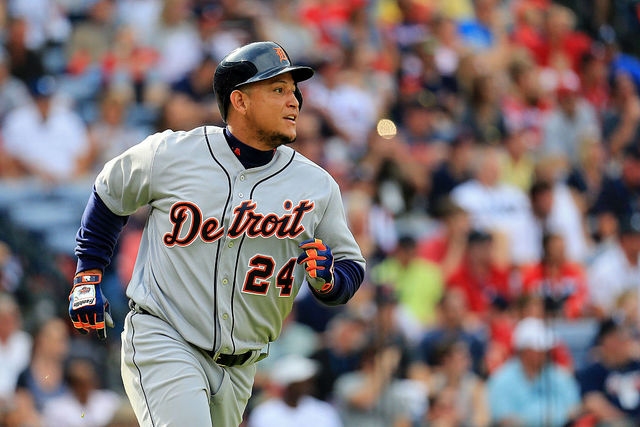 Miguel Cabrera won't be back on the field until he's completely ready.
In a brief interview Tuesday that ranged from jocular to intense, the Detroit Tigers slugger said he didn't get any credit for playing hurt in 2017 and he has no plans to rush back in 2018.
"I went through that last year, so I don't want to do the same thing," he said. "Nobody appreciates you when you play hurt, so I'm going to take my time and play when I'm good. I played hurt a lot of years here in Detroit. They don't appreciate that. When you are doing bad, they crush you. They crush you. They say you're bad, you should go home, you don't deserve anything, you're old. I say, 'OK, I'm done playing hurt.' Now I take my time."
Cabrera was eligible to come off the disabled list on Monday, but he has not yet resumed on-field activities after briefly jogging last week before a game in Texas.
Cabrera's went on the disabled list with a hamstring injury on May 4, but the aggressive rehab of that ailment has caused a flare-up in his back.
Get all the latest Betting and Sport News updates on your social media outlets
"When you are tight here," said Cabrera, gesturing to the hamstring, "your back is tight. It's all the same thing."
Cabrera was off to a hot start in 2018. Before going on the disabled list, he was hitting .323/.407/.516 in 93 at-bats with three homers, nine doubles and 21 RBIs.
The Tigers are encouraging him to take it slow.
"He's not ready," manager Ron Gardenhire said. "He has to go through some things to get on the field and be able to run. Right now he's just been running on the treadmill. We have to be very careful here. We have to make sure we get it right so when he comes back he's not dealing with anything." The back tightness was revealed Monday night.
Check WagerWeb and find the best online betting site.