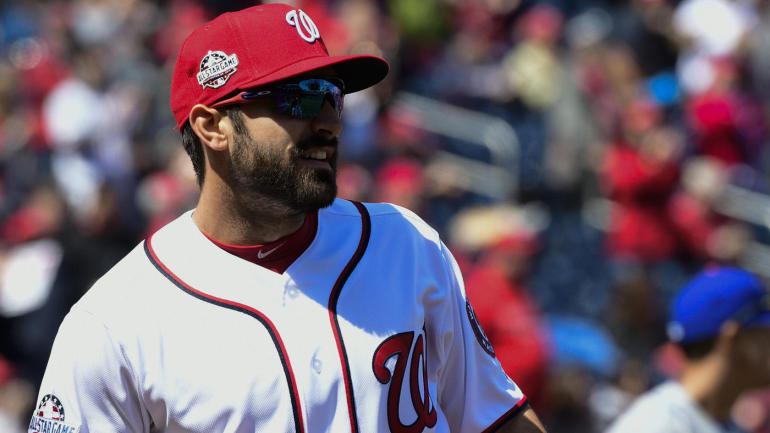 The Nationals have placed outfielder Adam Eaton on the 10-day DL, as Jorge Castillo of the Washington Post reported was likely to occur. Eaton will be replaced by outfielder Moises Sierra, whose promotion required some other roster machinations.
Eaton is not dealing with any new problems in his surgically-repaired left knee, but rather has been diagnosed with a bone bruise in his left ankle. That joint was also damaged last year, though it seems the new problem is not expected to pose any major new obstacles. Just how long he'll be out remains to be seen and will likely be dictated both by how he responds to treatment and by how the roster shakes out in the meantime.
While it unquestionably hurts the Nats to see Eaton go back on the shelf, the veteran noted there are some silver linings here. "[W]e're really going to concentrate on strength and the process of getting it better," he said of his left leg. "And get my quad correct and everything. And work on things we kind of ran out of time in spring training so this might be a little blessing in disguise."
Get all the latest Betting and Sport News updates on your social media outlets
"I think our mindset is a week of kind of relaxing," he explained, "and then going from there with speeding everything up. The nice thing about it is it only hurts when I walk and jog, lifting is fine, sprinting is fine, throwing is fine, hitting is fine, so I think once we realistically get to walking and jogging and [get] that bone healed, we should be able to get off and running relatively quickly, no pun intended, with rehab and then getting back out there, so very weird rehab process."
As for Sierra, the 29-year-old hasn't tasted the majors since back in 2014. But he has performed well since joining the Nationals on a minors deal, turning in a strong spring performance and opening the season well at Triple-A. In all likelihood, Brian Goodwin will take the bulk of the time in left, with Sierra supplementing him as needed. The club could have turned to Andrew Stevenson, who is already on the 40-man, but he has scuffled early at Syracuse after a reasonably promising spring.
Check WagerWeb and find the best online betting site.