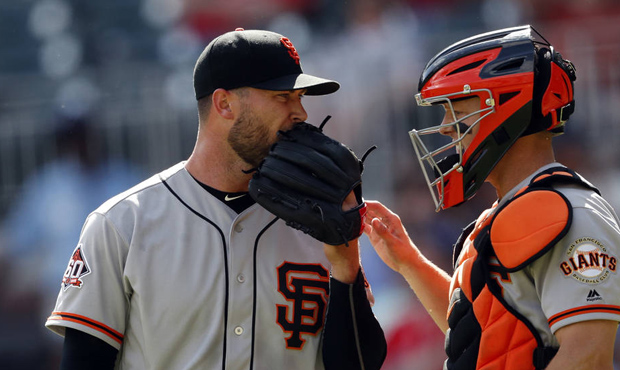 The Nationals bullpen got a little thinner on Sunday when closer Sean Doolittle was placed on the Injured List with right knee tendinitis.
On Tuesday, the unit almost had another pitcher endure an IL-needing injury, as recently-acquired relief pitcher Hunter Strickland nearly injured himself in a weight room accident in Pittsburgh just hours prior to the Nationals matchup with the Pirates.
Strickland had a bar strike the right side of his face, according to manager Dave Martinez, the Washington Post reported. When seen walking in the clubhouse, the reliever had a stripped band-aid on his nose to couple with a very red face.
Strickland posted a picture of himself on Instagram, suggesting that he had broken his nose after getting mixed up with a barbell. According to The Washington Post, Strickland was seen in the clubhouse with a bandaged nose moments before the picture went live on social media.
"Broke nose never killed anyone. We have a playoff push so let's keep it going @nationals This team is special!," he wrote. "Side note: barbell=1 me=0."
Get all the latest Betting and Sport News updates on your social media outlets.
He underwent X-rays at PNC Park, and they confirmed that Strickland suffered a broken nose.
Earlier this season Nationals ace Max Scherzer bunted a pitch into his face during batting practice and suffered a broken nose. He was able to make his scheduled start the very next day, albeit with a black eye. From the sound of things, Strickland will be the second Nationals pitcher this year on the mound with a shiner.
Strickland, 30, signed a one-year contract with the Mariners this past offseason, but made only four appearances with the team around a lat injury. He was traded to the Nationals last month and they can retain him next year as an arbitration-eligible player.
Strickland did not pitch in the 4-1 loss, but manager Dave Martinez told reporters after the game that Strickland was available if they needed him. He should not have to be placed on the injury list, Martinez said.
Check WagerWeb and find the best online betting site.