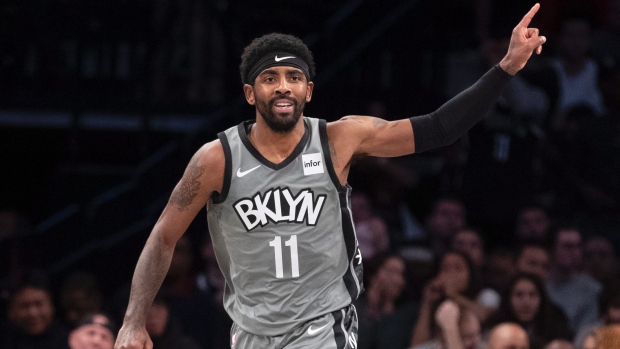 Brooklyn Nets star Kyrie Irving has hopes of being back on the court before 2020 gets too far along.
Irving has been out of the lineup for nearly two months because of a right shoulder issue. However, he told reporters Thursday he expects to be re-evaluated next week. Just being cleared to play is a big step to Irving.
"We just see where we end up in the next few days," Irving said. "Realistically, we will re-evaluate tomorrow. See how I feel tomorrow. Then go Saturday — probably another practice."
There is no exact date for his return, but Irving said Thursday he's assigned himself a deadline of one week.
"Hopefully I get some game reps in addition to practice probably in the next week or so, it could be less than that but I'll give myself a week."
Get all the latest Betting and Sport News updates on your social media outlets.
Irving was able to fully participate in practices for the first time on Thursday, which included him going through some 5-on-5 contact drills, ESPN's Malika Andrews reports. He said that a week and a half ago, he started to do 2-on-2 work with coaches as he slowly started ramping up his workload.
When asked if there are any limitations about what he's able to do, he said he has none "other than just keeping my shoulder maintenance program going before I get on the floor."
Irving has played in just 11 games this season, averaging 28.5 points, 5.4 rebounds and 7.2 assists.
In the latest NBA All-Star Voting returns, Irving ranks second in the Eastern Conference among guards with 1,351,997 votes. He saw nothing wrong with him being so up in the voting tallies despite playing in so few games.
"I put a lot of work in this league to be up there whether I'm playing or not," Irving said. "If it's an All-Star Game, then I would vote for myself as well."
Check WagerWeb and find the best online betting site.