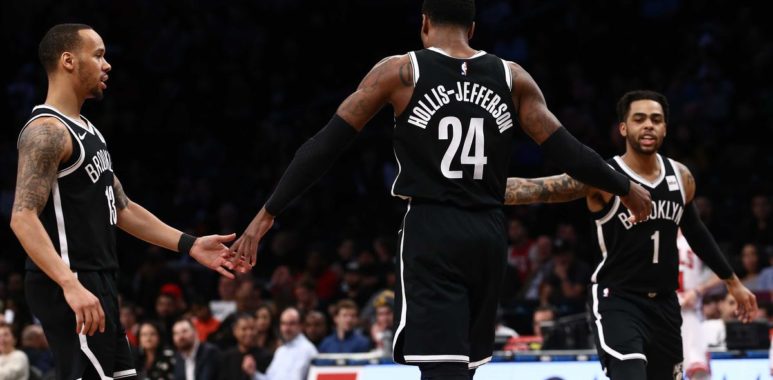 Fifteen days after the Brooklyn Nets announced that four players had tested positive for COVID-19, general manager Sean Marks stated that Brooklyn's roster is free from coronavirus symptoms.
Speaking to reporters during a conference call on Wednesday morning, Marks said that the Nets' traveling party has completed a two-week quarantine and will continue to adhere to the government issued social distancing guidelines.
"As it pertains to the team," Marks said, "I sense like all of us, like the rest of New York and really the rest of the globe, we're trying to deal with this as best we can."
The symptoms of COVID-19 can include fever, cough, chills and extreme exhaustion.
Many people who have coronavirus do not have any symptoms at all. Three of the four Nets players to test positive were asymptomatic. Still, Marks said as of right now there is no plan for players to be retested.
Get all the latest Betting and Sport News updates on your social media outlets.
Marks said that he only foresees players being retested if it is something the government or NBA requires in order to return to playing.
The NBA campaign has been on pause since March 11 and since then, more than a dozen players and at least one team owner, the Knicks' James Dolan, have tested positive for coronavirus. During the three week hiatus, many teams have distributed workout equipment to their players' homes in order to keep them in shape. For the Nets, that has also meant that their injured players have had more time to heal.
Nets star Kyrie Irving had shoulder surgery in February and was expected to be out for the remainder of the 2019-20 season. Kevin Durant, who sustained an Achilles injury in the 2019 NBA Finals, had been ruled out for the entire campaign.
Marks did not definitively say how the extended postponement of the season could affect whether Durant — who tested positive for coronavirus — or Irving returns to the court this season. Marks stated that while both players are continuing their rehabilitation, the process could be slowed due to the practice facility being closed.
Check WagerWeb and find the best online betting site.