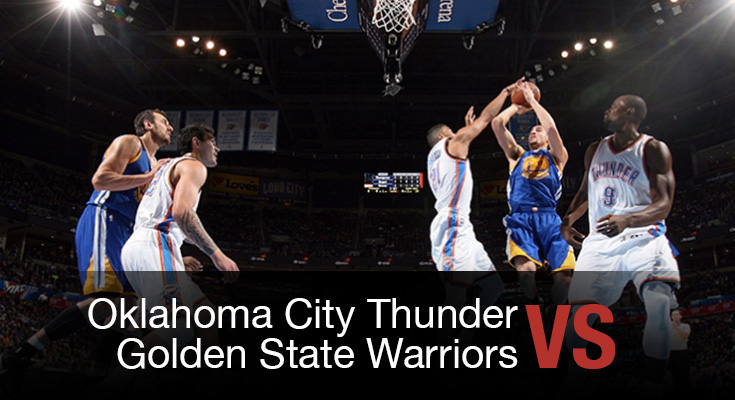 Oklahoma City Thunder (64-30) at Golden State Warriors (81-12)
NBA Basketball: Wednesday, May 18, 2016 at 9:00 pm (Oracle Arena)
The Golden State Warriors and the Oklahoma City Thunder do battle in Game 2 at the Oracle Arena on Wednesday night.
The Golden State Warriors lost only once at home before Monday's 108-102 setback against the Oklahoma City Thunder in Game 1 of the Western Conference Finals.
The defending NBA champion Warriors now hope to bounce back from that surprising defeat as 8.5-point betting favorites at sportsbooks monitored by Odds Shark for Game 2 on Wednesday versus the Thunder.
Get in the action, anywhere, anytime! Check our Live Betting Options!
Game 1:
After a bad first half, Russell Westbrook scored 19 of his 27 points in the third quarter as Oklahoma City rallied to beat the Warriors 108-102. It marked the first time in the Steve Kerr Era that the Warriors have lost Game 1 of a playoff series. The Warriors led 60-47 at halftime, but lost their offensive rhythm as Westbrook heated up. Stephen Curry had 26 points, 10 rebounds and seven assists, but also had seven of the Warriors' 14 turnovers. Kevin Durant scored 26.
The Thunder will be absolutely delighted with their 108-102 Game 1 win against the Warriors on Monday night. It was a rough shooting night for Kevin Durant and Russell Westbrook as they combined to shoot 17 of 51 from the field, but the Thunder showed great toughness to hang around even when their superstars were misfiring in the second half. In fact, the rest of the Thunder team combined to shoot a healthy 57.9 percent from the field with Steven Adams leading the supporting cast with 16 points which really allowed the Thunder to hang around despite turning the ball over nine times in the first half which put them into a 13-point deficit going into halftime. Westbrook came to the party in the third quarter and erupted for 19 points to finish with 27 points, 12 rebounds and seven steals for the game while Kevin Durant was right behind him with 26 points and 10 rebounds of his own.
Support your Team! Start betting now!
As for the Warriors, Stephen Curry led the team with 26 points,  a playoff career-high 10 rebounds and seven assists but he had seven turnovers, while Klay Thompson and Draymond Green added 25 and 23 points respectively, but it still wasn't enough as the Warriors went absolutely ice-cold in the second half, especially in the fourth quarter where the Warriors connected on just one of 10 three-point attempts. Credit some of those misses to great defense from the Thunder, but the Warriors really lost their composure and just missed a lot of open shots that they usually make.
Get all the latest NBA News and updates on your social media outlets.
Find us on both Facebook and Google+!