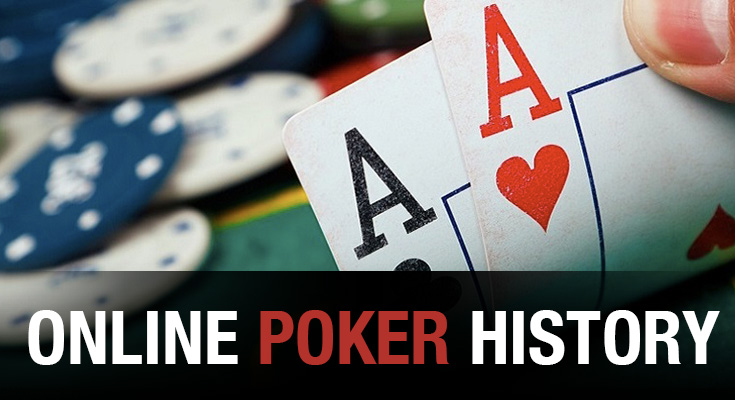 The game of poker may go back as far as 200 years, but the online version as we know it today is only a mere 13 years old.
Online poker history started in the mid 1990's and a couple of years later the first real online poker rooms saw the light of day.
The first online poker room was Planet Poker launched on January, 1998. Planet Poker was founded by poker pro, author, and legend, Mike "Mad Genius" Caro and is still in existence today, though it quit taking real money bets in March 2007 following the UIGEA fiasco (more on that later). The first real-money poker game was a Texas Hold 'em game of $3/$6 stakes.
Later in the year, a Senator Jon Kyl from Arizona introduces the Internet Gambling Prohibition Act (IGPA), so that before online gambling had even really gotten started, there were already lawmakers trying to knock it down. If passed, the IGPA would make it illegal for websites to offer online gambling services to US citizens. It fails to pass.
By the end of 1998, the online gambling business has generated $834.5 million in revenue despite connectivity issues, slow servers, and primitive network technology, as reported by Frost and Sullivan, global market research firm.
Other online poker rooms soon entered the fray. Paradise Poker out of Costa Rica, was established in 1999 and would soon become the industry leader. During this initial period of entry, the infamous case of Poker Spot occurred. Poker Spot was an online poker firm founded by Dutch Boyd, a successful poker player.
Poker Spot was launched in May 2000. In September of that year, it would become the first online poker room to offer tournaments. However, troubles soon plagued Poker Spot. According to Dutch Boyd, it was unable to collect player deposits from its credit card processing firm. Essentially, all of the money players deposited and played with were not in the system, so Poker Spot was unable to pay its players their winnings. The firm soon went under
It was not until 2001 that the two most dominant online poker firms entered the industry. Poker Stars became a popular destination, much because of the extremely popular PokerStars tournaments, and Party Poker made a splash in the industry.
Throughout 2001, Paradise Poker remains in the front line of the industry, but PartyPoker has begun offering tournaments, and that summer, they host a series of tourneys that finish up on a cruise ship, now known as the PartyPoker Million cruise. The promotional-style strategy they adopt is a very successful business model and pays off with financial success.
While Party Poker was spending millions on marketing, one man's $40 buy-in truly put the entire industry on the map. Chris Moneymaker's Cinderella story of winning the World Series of Poker was the type of advertising the online poker industry could once only dream about.
In 2003, Chris Moneymaker qualifies for a seat at the World Series of Poker Main Event and wins the tournament, turning a $40 investment in a qualifier tournament into a $2.5 million payout. This instantly catapults PokerStars into the running for biggest online poker site with average Joes everywhere signing up with the site hoping to be the next Moneymaker. Moneymaker inspired millions and as if over night, again, the online poker community swells. PokerStars takes in more players than all other sites combined.
Nevertheless, clearly the most remarkable thing that occurred in 2003 was the launch of a poker information website, www.pokertips.org.
Online poker exploded in 2004. The increasing popularity of the poker and the "Moneymaker effect" resulted in even more play at the virtual tables. Because of this, the industry's revenues more than tripled
By 2004 PartyPoker is making more than $1 million in profit daily. Online poker is growing faster than anyone could have fathomed. Mainstream America is seeing poker on television and more players are signing up. More and more new online poker sites are popping up on a daily basis. Full Tilt Poker emerges with heavy advertising campaigns on television and top poker pro spokesmen. Full Tilt instantly becomes one of the big guns in online poker.
In 2004, search engines Yahoo and Google remove all Internet gambling advertising from after the US Justice Department announces that advertising for such activity may be interpreted as aiding and abetting illegal gambling in the Wire Wager Act of 1961.
The US makes up more than 51% of the $8.5 billion in revenue generate by online gambling, according to Christiansen Capital Advisors, industry researchers. In 2005, an estimated 55 million Americans participate in online poker, 15 million of those playing with real money, according to the Poker Players Alliance (PPA), a newly founded grass roots advocacy group formed to combat the fight against online poker in the US. This year, PartyGaming lists on the London Stock exchange with a market value of around £4.6 billion.
By the end of 2011, online poker in the US is pretty much eradicated, and the future of regulation looms uncertain overhead.
Stay tuned to our blog and learn how to play Online Poker at WagerWeb.
Find us on both Facebook and Google+!