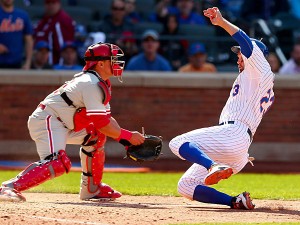 (SportsNetwork.com) – Colon lasted a season-low 4 1/3 innings in last Wednesday's 9-0 loss to the St. Louis Cardinals and was touched for nine runs (8 earned) and 11 hits with a season-high two walks and four strikeouts. The runs and hits were both season-highs for Colon, who has dropped consecutive decisions for the first time since a three-game slide from June 29-July 10, 2014.
The hard-throwing right-hander set a franchise record by tossing 48 2/3 straight innings without allowing a walk and fell to 6-3 with a 4.85 ERA in nine starts this season. Colon went seven straight starts without issuing a walk and defeated the Phillies on May 10, allowing four runs over six innings of a 7-4 win.
Colon has made 10 career starts against the Phillies and has a 5-3 record to go along with a 4.15 ERA through 65 innings.
New York hopes Colon brings his best stuff after it was swept in three games by the Pittsburgh Pirates this weekend. The Mets suffered a 9-1 loss on Sunday at PNC Park and Jon Niese was touched for four runs in 4 2/3 innings.
Check WagerWeb and find the best online betting site!!!!
Erik Goeddel allowed three runs in relief and Sean Gilmartin gave up two.
Wilmer Flores went 2-for-4 with the lone RBI for New York, which lost for the 10th time in the past 14 tries.
The Mets have lost seven in a row on the road, but are back home for six straight games against the Phillies and Miami Marlins.
Philadelphia will begin the final leg of its 10-game road trip (3-4) and dropped two of three to the Washington Nationals in DC.
The Nationals won the series with Sunday's 4-1 win and Phillies starter Aaron Harang was dealt the tough-luck loss for allowing two runs in six innings.
eff Francoeur had two hits and an RBI for the Phillies.
Severino Gonzalez will make his fourth career start for the Phillies Monday and the rookie is 2-1 with a 7.11 earned run average. Gonzalez aims for his third straight win and defeated Colorado with five innings of one-run ball in a 4-2 win last Wednesday.
The right-hander from Panama has never faced the Mets and will make his fourth start on the road. Gonzalez has given up three runs in his last two starts after getting crushed in his MLB debut on April 28 at St. Louis, where he was tagged for seven runs and 10 hits in 2 2/3 frames.
Philadelphia is 1-5 against New York this season.
Read more here: http://www.thestate.com/sports/mlb/article22177278.html#storylink=cpy
From Online Sportsbook, Casino Betting, NFL Odds to Racebook Gambling, WagerWeb offers you the online gambling options
Here are 5 Phillies things to know Monday:
Rookie right-hander Severino Gonzalez (2-1) and Mets righty Bartolo Colon (6-3, 4.85) will start Monday's Memorial Day 1:10 p.m. series opener at Citi Field. Making his second start since returning from Triple-A, Gonzalez won in Colorado last Wednesday, allowing one run over five innings. Colon is 0-2 with a 12.54 ERA in his last two starts, allowing 15 runs, 13 earned, on 18 hits over 9 1/3 innings in home losses to Milwaukee and St. Louis. Three starts ago, Colon allowed four runs over six innings in a May 10 win over the Phillies at Citizens Bank Park.
Rookie third baseman Maikel Franco, 0-for-4 with a strikeout batting cleanup on Sunday, is hitting .158 with a homer and two RBIs in 19 at-bats over his last five games. In his first five after a May 17 call up from Triple-A, he hit .350 with one homer and five RBIs in 20 at-bats. He's now batting .256 for the season.3. Philles right-hander Aaron Harang was a tough-luck loser again Sunday despite holding Washington to two runs over six innings. In his last four starts, he's 1-2 with a no-decision despite pitching to a 1.33 ERA. For the season, he's 4-4 with a 1.93 ERA in 10 starts.
Rookie center fielder Odubel Herrera, 1-for-4 on Sunday, is hitting .221 in 22 May games after batting .301 in 23 April contests.
Hitting with runners in scoring position again was an issue on Sunday for the Phils, who were 1-for-9. For the season, their .223 RISP average is 27th among 30 teams, 14th among 15 NL clubs.
Phillies' full lineup:
Ben Revere, LF
2. Freddy Galvis, SS
3. Chase Utley, 2B
4. Ryan Howard, 1B
5. Maikel Franco, 3B
6. Grady Sizemore, RF
7. Odubel Herrera, CF
8. Carlos Ruiz, C
9. Severino Gonzalez, P
Get all the latest Betting and Sport News updates on your social media outlets. Find us on both Facebook and Google+!